Families across the UK now know they can form "Christmas bubbles" from December 23 to 27 – meaning three households can get together for five days.
Despite the relaxing of rules, many will be refraining from gathering in groups to celebrate what's being dubbed 'mini-mas' instead – while others stay keen to visit their loved ones after what's been a tough year apart, but know that things will look a little different this year.
For everyone who is planning to spend Christmas on the down-low, there's plenty you can be doing in the lead up to December 25 to feel festive, despite the tiers and restrictions in place. Here are some ideas to get you started.
1. Go big on decorating
People have been putting their Christmas trees up earlier than ever, and there's also been a surge in people decorating their entire homes – inside and out – with garlands, wreaths, lights, advent calendars, candles, the lot. Homebase has reported a massive 13,000% increase in searches for Nordic Christmas Gnomes (or Gonks), and they're a bestseller at Poundland too.
Luxury event planner Charlotte Ricard-Quesada says: "I'm a big believer that decorating my home makes me happier at this time of year with the longer nights – let alone when a global pandemic is around. So get those trees, baubles, wreaths and other decorations out and go for it. It will keep you all busy for a day or two and will put a smile on your face every time you see it. Exactly what we all need now."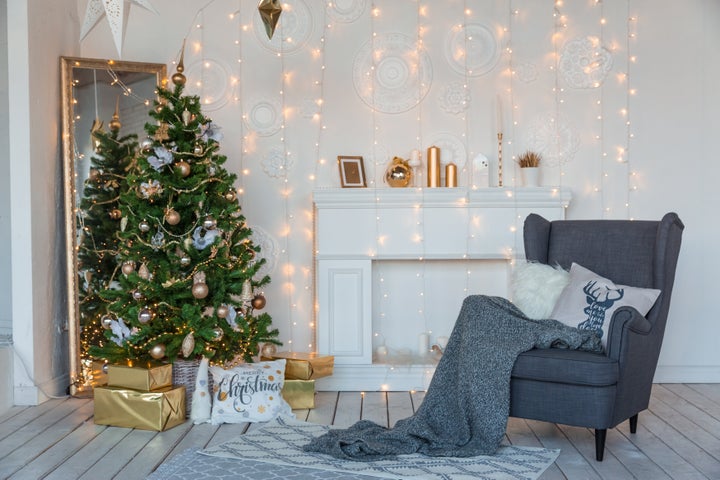 2. Make your own wreath
Crafting can be incredibly calming and therapeutic at the best of times, so why not go foraging for some materials to make your own wreath at home? Think evergreen foliage like pine, as well as birch, holly, ivy, hawthorn, eucalyptus, pine cones, dried oranges and cinnamon sticks (granted, you'll find some of this stuff in your kitchen, rather than the great outdoors).
Florist Emma McDonald, from Stems in Scotland, says preparation is key, so make sure you've got everything you need before you start. That includes a strong pair of scissors/secateurs; reel wire; string; ribbon; wreath frame/ring; and your foliage and decorations. You can find step by step instructions on wreath-making here.
3. Set up a hot chocolate station
Christmas-lovers flock to the All About Christmas Facebook group to share what they've been doing to prepare for the Big C. This year, there's been a marked rise in interest for hot chocolate stations, which are exactcaly what they sound like – people setting up lovely trays or cake stands in their living rooms or kitchens with glass jars filled with hot chocolate powder and various sweet toppings: fluffy marshmallows, candy canes, flakes, cinnamon and nutmeg.
This is great one to indulge in, whether you have kids or not.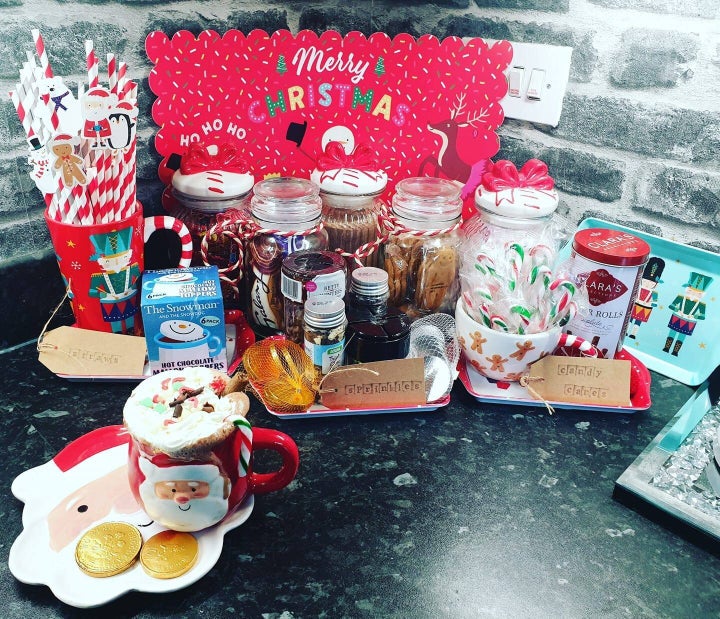 Emma Lynch, from Skelmersdale in Lancashire, made the hot chocolate station above for her daughter. "The jars are from Home Bargains, there are candy canes, snowmen marshmallow toppers, mini marshmallows, chocolate sprinkles and mini cookies," she tells HuffPost UK.
She also bought festive straws, a Christmas placemat from Matalan, and a festive mug and plate from Poundland to finish off the look – and it's gone down a hit in her household. "My little girl is absolutely thrilled with it," she says. "I thought that with Covid restricting where we can visit for Christmas treats, I would bring the treats to her. And it certainly cheered her up."
4. Visit a Christmas market (online)
Christmas markets might be cancelled IRL, but that doesn't mean you can't enjoy the lovely trinkets and gifts that would usually be on offer. Plenty of Christmas markets have moved online this year so you can still bag some festive, handmade gifts for your nearest and dearest.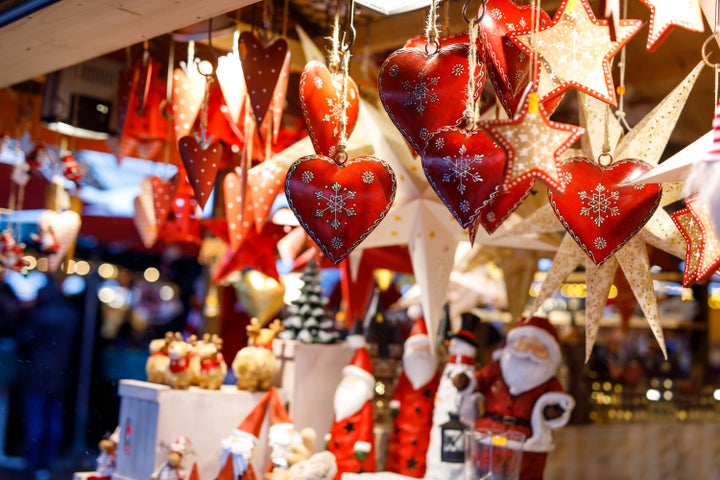 5. Plan a community advent calendar
6. Don't forget to see Santa
Santa's grottos are shut, too, but that doesn't mean your kids can't see Father Christmas in the run up to the big day. Santa's Grotto Live is an online experience that allows children to tell Santa, via a personalised video experience, what's on their Christmas lists this year – he'll appear live from his home in Lapland and be on hand for individual chats with kids and their families.
Santa's Calling You also lets you do a live video call with Santa in his North Pole grotto – you simply book a date and time, fill in your details of what you'd like him to know ahead of the call, and wait for the big day. If your kid is shy or a little scared of Santa, they can speak to Mrs Claus or an elf instead.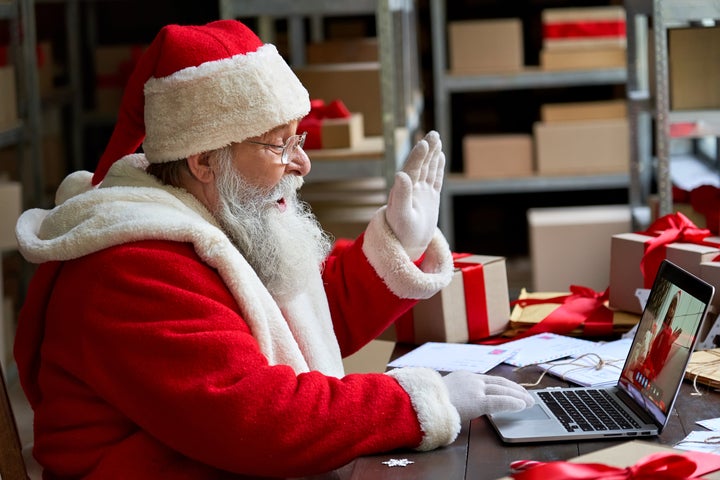 7. Plan a virtual get together
The run up to Christmas is often wall to wall socialising – sometimes to excess. But this year will be different. In lieu of "friendsmas" – that glorious day in mid-December when you meet up with pals for a big old festive lunch or drinks session, event planner Charlotte Ricard-Quesada suggests planning a Zoom call catch-up with a theme – whether that's cocktail party, wearing festive headbands, or Christmas jumpers. You could indulge in a digital murder mystery or if you're not too quizzed out, here are some suggestions for new rounds. 'Whose Fridge?' comes highly recommended by the HuffPost office.
8. Do your presents differently
With plenty of people relying on the postman or woman to deliver gifts if they can't visiting people in person, we predict there'll be a real focus on one or two high quality items rather than buying lots of cheap tat, which, let's face it, is bad news for the planet and a logistical nightmare to deliver in one piece.
9. Enjoy a Christmas movie marathon
There's really no excuse not to binge-watch all of your favourite Christmas films throughout December. Why not schedule in a festive film night every Friday in the run up to the big day. If there's a few of you in the household, put your favourite film names on scraps of paper in a hat and get a different person to pick one out each week.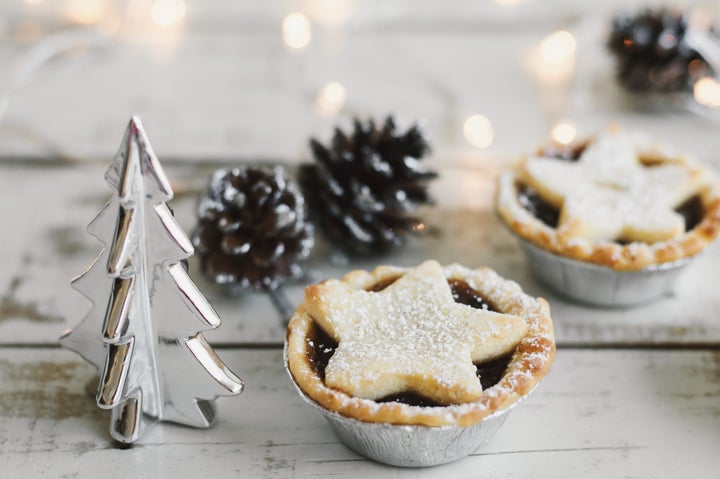 10. Try baking your own treats
Whether your go-to Christmas sweet treat is a mince pies, Christmas cake, or a juicy Christmas pudding, why not try baking your own this year? You've got plenty of time to master the recipe, after all. Grab your ingredients, a big bowl and wooden spoon and you're good to go. Or if baking's not your bag, then read our bumper guide to shop-bought minch pies and indulge away.
11. Track Santa on Christmas Eve
12. Stick to traditions on Christmas Day
It's nice keeping to your favourite traditions on Christmas Day, says Ricard-Quesada – "whether you wake up in PJs and open the stockings before getting washed and dressed and start prepping the huge lunch, or the kids burst into your bedroom screaming that Santa has been."
If you can't be with all the family or friends you'd normally see, schedule in that video call (yes, you can manage one more) so you can open presents together and see each other's reactions live. You can even bring the traditional family games online, too, using this charades generator and the spotlight on Zoom. Or not. There have to be some benefits to having a 'minimas', after all!