In the middle of his toughest week since becoming Labour leader, Keir Starmer was able to take some solace in the fact that Rishi Sunak was having an equally torrid time.
Addressing the weekly shadow cabinet meeting on Tuesday morning, Starmer reflected on the prime minister's decision to make David Cameron the new foreign secretary in the previous day's reshuffle.
"Since Sunak became PM he's followed the three Cs," Starmer said. "At first he talked about competence, but that's gone out the window.
"Then he started saying he was the candidate of change. And now that's not working he's turned to Cameron."
Barely 24 hours later, however, Starmer's own travails were cast into sharp focus when 56 Labour MPs - including 10 frontbenchers - defied him to vote for a ceasefire in the Israel-Hamas war.
It meant that a day which began with Sunak's pledge to "stop the boats" carrying asylum seekers across the Channel being left in tatters by the Supreme Court's Rwanda ruling ended with Labour on the brink of its own civil war.
As both leaders survey the wreckage of the last week at Westminster, speculation is mounting that the PM will decide to gamble on a general election next May.
He did little to dampen that speculation yesterday when he refused to rule out going to the country if parliament or the courts block his latest attempts to deport asylum seekers to Rwanda.
"We've got to get the Rwanda plan up and running," he said. "I will do whatever it takes to make that happen. People are sick of this merry-go-round, I want to end it, my patience is wearing thin like everyone else's."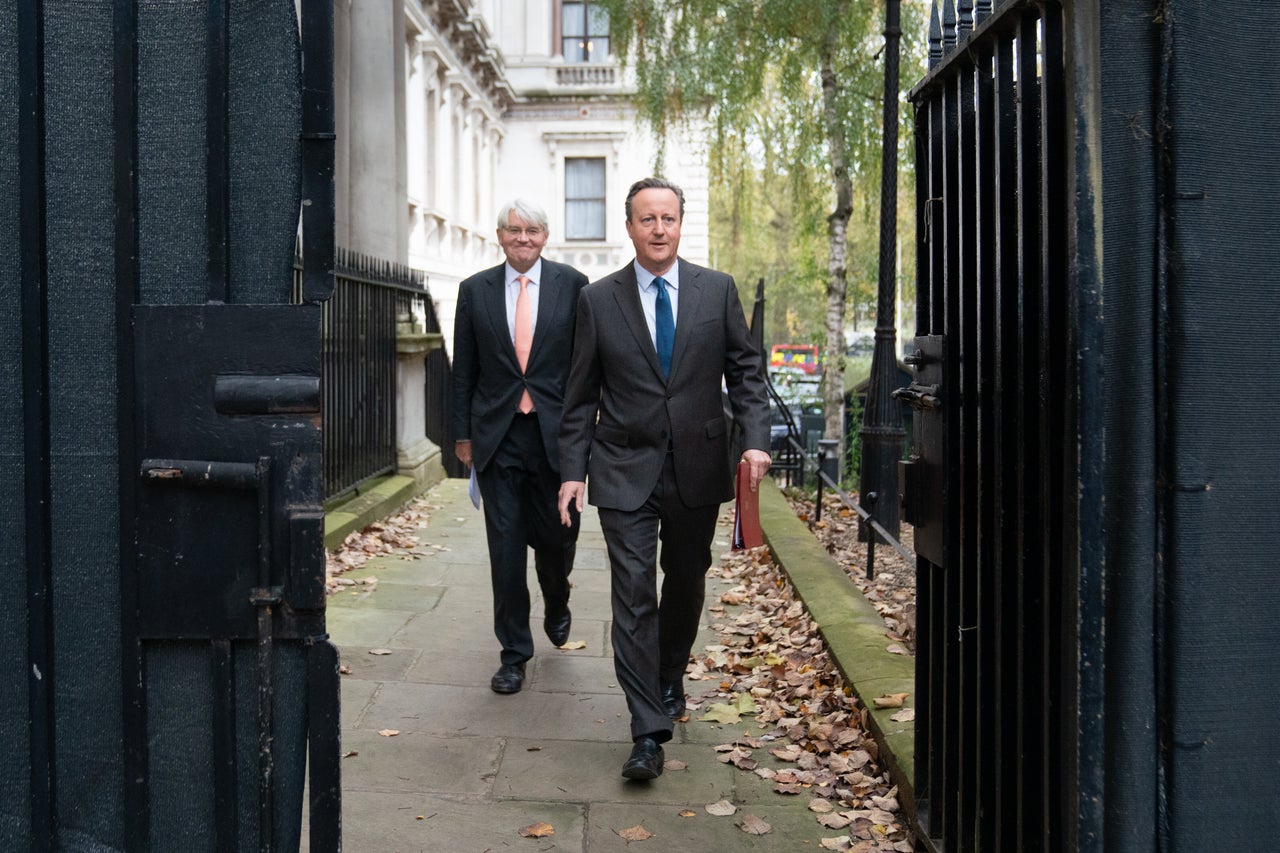 It's certainly a bold gambit with the opinion polls consistently giving Labour leads of more than 20 points, but even some Tory MPs think an election might be the PM's least worst option.
One former cabinet minister told HuffPost UK: "Seeking a mandate for stopping boats is one thing to go on, but there's also the fact that the longer he goes, the more his internal critics can undermine him. You're never that far from 50 malcontents sending in letters of no confidence."
That's a reference to the right-wing New Conservatives, who have effectively put Sunak on notice that if he doesn't deal with illegal migration, his time is up.
Sacking Suella Braverman last Monday may have rid Sunak of a troublesome home secretary, but it also created a focal point for the growing discontent on the Tory backbenches.
A bile-soaked letter accusing the PM of "betrayal", followed by her own five-point plan for stopping the boats, showed that Braverman will be a constant thorn in Sunak's side.
A veteran Tory MP said: "I've always advocated going for an election while he's still in control of the situation. Major seized the initiative in 1992 and won, but when he hung on till the bitter end in 1997 he lost."
Those around Starmer are also becoming more convinced that an early election is on the cards.
One insider pointed out that with the Tories facing huge losses in the English local council elections on May 2, Sunak may be tempted to call a general election for the same day.
They said: "It's difficult for him to tell the Tory grassroots they need to put up with losing a load of councillors in May and to then just crack on until the general election six months later.
"They've been looking around for ages for something to run a 2019-style election on and the small boats could be it. If they get blocked in the Lords or in the courts, that's what they'll go for."
That theory was echoed yesterday by former Tory minister Simon Clarke, who said voters should be asked to pass their own judgment if Sunak's plans for an emergency law don't work.
Posting on X (formerly Twitter) he said: "We should be crystal clear: half measures won't work. We need the legislation that is brought forward to be truly effective, and if the Lords block it - let's take it to the country."
Another argument for a May election put forward by some Tories is that it could end up saving more of their seats.
"The polls have been pretty solid for months - the government is on course to lose the election very badly," one Conservative backbencher told HuffPost UK.
"The idea that we can from 23% in the polls now to actually winning next year is fanciful.
"Most of my colleagues think the die is cast, but a May election might be the difference between getting 200 seats and getting 150.
"It's about damage limitation now. We need to get the most MPs we can to be able to function in opposition. We need 200 MPs and any more is a bonus."
Calling an election next May would also be that rarest of things - a Sunak idea that is actually popular with the public.
Last month, HuffPost UK revealed polling which showed 73% of the public want an election by next spring, with just 15% preferring to wait until autumn 2024.
The usually-cautious Sunak's natural instinct may be to put off an election for as long as possible in the hope that the Tories' fortunes change.
But the evidence is mounting that a May election could well be his only chance of avoiding a political tsunami.