We've seen Britain's most famous landlady battle cancer, negotiate her family's many feuds and cover up their crimes. She's taken - and dished out - a number of slaps, and watched her beloved pub burn to the ground, all while seeming far mightier than her 4'11" stance suggests she should be.
With 20 million people watching, it felt like everyone was talking about the wedding of Scott and Charlene and my family and I were no exception. The wedding was a prestigious affair in my household with all of us glued to the screens in silence as Charlene walked down the aisle in that giant lacy dress looking like a knitted doll you'd find on top of a toilet roll.
Lassiters, the hotel complex that has seen so many explosions and fires it's a wonder that anyone stays there. It can't rate too highly on Trip Advisor?
So of course I understand why a script writer may leap to the conclusion that this is an ideal storyline to cover a fake pregnancy, however for those of us who have lost a child through miscarriage it's a slap in the face!
Everybody knows a Sally Metcalfe. She's the neighbour whose curtains are constantly twitching, desperate to stay one step ahead of the others whilst secretly yearning to fit in. That's probably one of the reasons Sally has become such a national treasure, and today marks 30 years since she first appeared on our screens.
I've spent the past year or so watching episodes from 1988 onwards on YouTube, having currently reached mid-1990. It's been such a delight to watch, with some incredible storylines such as the death of Brian Tilsley, Rita's domestic abuse at the hands of Alan Bradley and Ken's affair with Wendy Crozier.
Treadwell-Collins described the live week as being "a fantastic opportunity for EastEnders to create a massive national event, and one that will enable us to celebrate 30 years of [the show] in spectacular style." He didn't disappoint.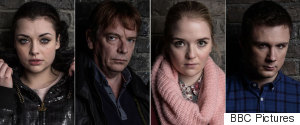 A year ago, in the months leading up to Lucy Beale's Good Friday death, chatter about Walford would have been met with a sigh, and probably an eye roll... Fast-forward to this week's anniversary celebrations and things couldn't be more different. But how have the BBC done it?
Eastenders promised an action packed festive offering and they didn't disappoint and as Mick Carter found out that his sister is actually his mother, he reels from the news that his prospective wife-to-be had been raped by the person that turns out is his brother.
If you choose to watch the soap with your child, you should be willing and able to discuss any issues the programme brings up, including that of sexual violence. If your child is old enough to understand that the implied rape scenes depict a rape, then she is old enough to be taught that rape does not just happen on an unlit path at night.
With exception of Sonia who earned a nursing degree, there's a dearth of higher education, which is odd considering all the universities in real London, including the East End. Sure, in the early years, Michelle went to college, as did her well-schooled roommate Rachel.
Despite the snobbery, soaps attract dedicated followings. A full cross-section of society, who will watch any story with which they are presented, no matter how uncomfortable. On a daily basis, topics like euthanasia, gender identification, murder, rape and domestic abuse are brought directly into homes around the country.
NEW YORK - At a recent meet and greet held at midtown Britpub Churchill's here for Shane Richie, the actor schmoozed a few dozen stateside fans, some who traveled several hundred miles to speak with EastEnders' Alfie Moon, arguably the Queen Vic's favourite manager of all time.
Eastenders is supposed to be a show highlighting the highs and lows of real life. Is this really what real life has become? I don't think it is.
A week later, I am still coming to grips with Pam St Clement permanently hanging up her earrings, or more accurately, the infamous, diverse collection of jewellry that hung from the ear lobes of her character Pat for 25 years on EastEnders.