My biggest dream in life has always been to compete in the Olympics for Great Britain, and now it's less than 100 days until Rio 2016 and I can't believe it! It's all starting to feel very real for me so I've been reflecting on my journey so far, and I want to start to encourage others to believe that they too can make their dreams a reality.
Growing the numbers of apprenticeships in this country is an issue close to my heart. I remember when hiring staff in my own business, the most important thing I looked for on a CV was experience, not just paper qualifications. Being able to see the knowledge and expertise a young person has gained from learning on the job can really help a business find the right candidate for the role.
It's been a busy week to say the least, having just come back from Spa where I made my debut for JOTA Sport in their LMP2...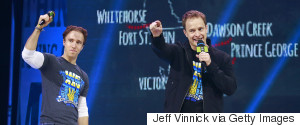 Remember that gung-ho teen who stopped you at the shopping centre for your signature on a petition or donation to a local cause? You might have just met tomorrow's millionaire entrepreneur.
Ok, then, so what does an engineer look like? This isn't an existential or hypothetical question for me, I would genuinely like an answer. It is remarkable how often I tell people I am studying to be an engineer and the response is just that - Ceri, you don't look like one. It's frustrating that people have these archaic preconceptions!
There's a plethora of non-white talent in the UK that hasn't been viewed by the BRITs let alone the general public. If the awards focused on record quality, rather than record sales then acts like Boy Better Know, FKA Twigs and Kwabs would have received a gong by now.
Holy Trinity Brompton (HTB) church's student community share the belief that all humans are 'created to be creative'. Because the students enjoy enco...
Young people like Aaron Sterrit are capable of breaking down security walls, but they are also capable of making them stronger. The proverbial bike thief employed by the police to help identify top spots for bike theft has become the young digital pro who can spot the cracks in a firewall.
If you're one of the thousands of fashion designers graduating each year and you're anything like me, you've watched countless series from Ugly Betty to Project Runway dreaming of a life working in fashion. But with so many graduates each year just from the UK alone the competition to get a job is as brutal as ever.
Yes, read the title again, again and again, until is clicks. Understand your directional future, plan ahead but most of all plan a life which is full of excitement and a life which you'll enjoy living.
I'm lucky, I've had many roles throughout my career and know how rewarding doing a job you love can be. I always wanted to do well, and I worked hard to get to where I am today but it's the support I get from my amazing family that keeps me going. They're there to pick me up when I'm having a bad day. They're there when I make the wrong decisions, when I'm trying to balance my home life with work or when I need to overcome a setback. With their support, I learn new things about myself and others every day, and over the years have built up the knowledge I can use to help others achieve their dreams. I know not everyone is as fortunate as me.