Up to 4.3 million tonnes of surplus food is produced each year, but only 2% of that goes to charities to feed the hungry. Around 3.7 million tonnes of this is destroyed or burned. While the political pressure simmers, an army of young activists are striving to tackle these issues from the front line. Chief amongst them is Grace Jones, a 15-year-old campaigner from Croydon.
I've previously featured young singer Josh Savage. Josh bears all the hallmarks of a future star, from a captivating voice to real songwriting talent. In the era of the male vocalist, I wanted to pick his brains for advice for other musicians on their way up.
It was the moment where the whole audience of over 1,000 people palpably hung on every word of her terrible story. She spoke of fleeing North Korea as a young teenager, witnessing the murder of a family friend and the rape of her mother, burying her father and finally being deported to South Korea from Mongolia.
While I believe creativity and focus have given me success; I don't think there is a single solution to teach entrepreneurship, but we are creating tools and opportunities that will help to teach it as a skill.
I'll always remember the riots. I was just leaving my office in the Bernie Grant Centre in Tottenham when messages started flooding through on my mobile. "A police car's on fire", one read. My phone didn't stop ringing for the rest of the evening... Next thing I know, I've set up a communications firm and I'm lecturing on the importance of social media - teaching individuals and companies how to make the most of one of the most powerful platforms on the planet.
I started racing when I was seven years old and it doesn't matter how many people ask me, I don't really know what got me hooked. Now, I'm living in London, racing in the GP3 series - a Formula 1 support series - and I'm chasing the dream that only a handful of people ever get to fulfill.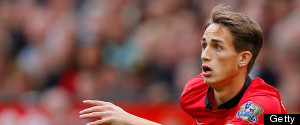 He was versatile like most wingers and could play either wing. On the left he could get his crosses in from his favoured left foot or on the right he could cut inside and shoot. He did really well on either wing but if Louis van Gaal plans on continuing his 3-5-2 formation where will he fit in?
More soulful than FKA Twigs' unsettling grace and with less sex than Kelela and BANKS, Laura Jae nevertheless fits into the new class of young female artists making pop interesting again. She counts Aaliyah, Bjork and James Blake as influences; The Weeknd with his 'weird mysterious aura' is her dream collaboration.
Connectedness, as the merging and integration of technology, people, global communities, is 'the real world' today... what young generation hasn't had their own paradigm shift to content with over the years - the sexual revolution, post-war modernism, woman's rights, gay rights, the structure of the workplace, informality, the changing structure of the family unit...
For now, there is still progress to be made. We want many more businesses to join the move to creating an enhanced contract with society and harness the influence and reach of their businesses to tackle key issues. In return businesses will unlock innovation, growth and long term opportunities. It's a win-win and it's time that every business recognised this.
When I was choosing my GCSEs at school I remember thinking (very naively... naturally) "what can I choose that will help me get into the best fashion schools in the country?" That seemed to be the recurring question at every crossroads of my education and as I progressed the reality became more and more clear: this was going to be tough...