The independence referendum will attract the biggest turnout in Scotland's history and draw people who have never voted before and do not feature in opinion polls, Alex Salmond has predicted. The SNP leader, a former racing tipster, urged political punters to put their money on an unprecedented 80% turnout.
With the Yes campaign steadfastly trailing in the polls, Mr Salmond has pinned his hopes on people with no voting record "who are not touched by opinion polls" turning out for Yes. In a wide ranging Edinburgh Book Festival appearance with eminent historian Tom Devine, Mr Salmond also pinned much of the blame for the collapse of Royal Bank of Scotland on its London employees and recalled how his father wanted to hang former prime minister Sir Winston Churchill.
Mr Salmond conceded that some parts of Scotland have benefited from being part of the UK in the past, citing Scottish traders who embraced British imperialism with "enthusiasm". But he acknowledged the toll that imperialism took on the nations of the empire and suggested the anti-imperialist song Freedom Come All Ye would be an appropriate national anthem for an independent Scotland.
The song, which renounces Scotland's imperialist record in Africa, was sung by South African soprano Pumeza Matshikiza at the Commonwealth Games to international acclaim. Mr Salmond said: "I think the best bet of this referendum is a bet on an 80% poll. If you can get odds on an 80% poll, you bet it."
Mr Devine said: "It will be the biggest poll in Scotland's history in terms of turnout." Mr Salmond added: "Absolutely, and many of the people who will be voting will be people who are not touched by opinion polls and opinion surveys, which tend to discount people with no voting record, and I think that's going to be a major factor."
Mr Salmond, a former RBS economist, pinned much of the blame for the collapse of the bank on its capital markets division in London, which was formed out of the former NatWest capital markets division and troubled Dutch bank ABN Amro. "There hasn't ever been a single employee of that division working in Scotland," he said.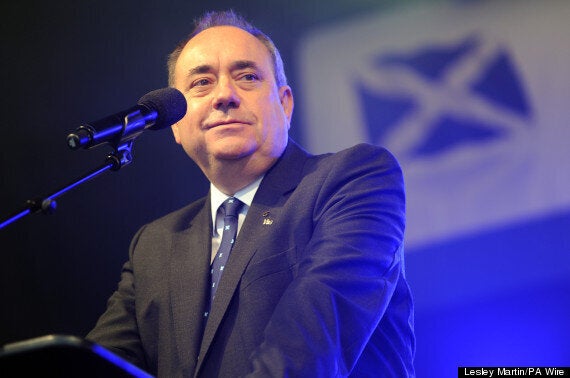 Salmond's father wanted to hang Sir Winston Churchill
"Every single person works in the market division in London. Now I'm not saying that therefore the headquarters in Gogarburn (Edinburgh) are absolved of all the craziness that they engaged into. I'm just pointing out that to see RBS's failure as a particularly Scottish matter is also wrong.
"It's a matter where all of us have reasons to be called to account, and particularly those who were meant to be regulating the thing have probably more reason than anyone else. But it is a matter of fact that RBS has more employees in London than Scotland."
Mr Devine rejected the notion that an independent Scotland would have been left to shoulder the collapse of RBS single-handedly, insisting the EU and the World Bank would have stepped in to avert an international banking crisis 20 times worse than the collapse of Lehman Brothers. The pair also charted the rising popularity of Scottish nationalism through history.
Mr Salmond said: "My mum used to think Winston Churchill was the greatest man that ever lived. My dad, of course, wanted to hang him. It was about what he did to the miners and things like that. I remember once, and I've just done it again, when I was younger and more foolish as a politician I actually said that to a journalist and there was a headline saying: Salmond's father wants to hang Churchill.
"So I phoned my dad and said: 'You probably saw the headline, I really shouldn't have said that.'" He said: 'No you shouldn't, did I teach you nothing? Hanging was too good for that man.'" He added: "There were gains from the union as well as losses. It has to be said that Scotland embraced aspects of the empire and commercial expansionism with substantial enthusiasm."
But he said the recent rendition of Freedom Come All Ye in front of the African Commonwealth nations should be seen as an apology for Scotland's imperialist past. "Freedom Come All Ye is an anti-imperialist song, a radical song written by Hamish Henderson in 1960," he said.
"He wasn't saying Scotland and South Africa were the same. He was saying that people were the same." He added: "There was movement some time ago to have that made our national anthem. I do accept that it will require a great national education drive and effort, but I tell you what, we could do a lot worse."
Popular in the Community