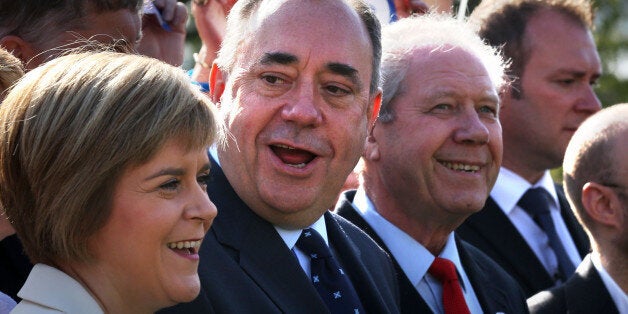 Companies worried about Scottish independence like oil giant BP will be nationalised in a "day of reckoning" after Scots vote to break away from the UK, a former SNP deputy leader has said.
Sillars reportedly said: "This referendum is about power, and when we get a Yes majority, we will use that power for a day of reckoning with BP and the banks.
"The heads of these companies are rich men, in cahoots with a rich English Tory Prime Minister, to keep Scotland's poor, poorer through lies and distortions. The power they have now to subvert our democracy will come to an end with a Yes."
"BP, in an independent Scotland, will need to learn the meaning of nationalisation, in part or in whole, as it has in other countries who have not been as soft as we have forced to be. We will be the masters of the oil fields, not BP or any other of the majors."
The Yes pro-independence campaign distanced itself from Sillars' proposals, with a spokesman saying: ""Jim is a passionate campaigner who is carrying on the work of his late wife Margo MacDonald, who dedicated her political life to achieving an independent Scotland and a fairer society.
"The current Scottish Government's proposals for an independent Scotland are set out in great detail in the white paper - including the job-creating powers Scotland so badly needs - and that is what people are voting for."
The former SNP deputy leader's colorful intervention comes as some of Britain's biggest telecoms firms are reported to be considering warning that independence could lead to an across-the-board price hike for Scottish consumers.
According to Sky News, BT, EE, O2, TalkTalk and Vodafone are considering a joint statement that would warn of the "the inevitability of cost increases" for operators due to uncertainties over regulation and the currency Scotland would use.
Meanwhile, Sir Michael Rake, chairman of BT, who also heads the Confederation of British Industry lobby group, claimed that the "overwhelming majority" of Scottish businesses oppose independence.
Speaking to the Financial TImes, he said: "Ninety per cent of Scottish business supports what we've been saying. The overwhelming majority of businesses do seek a No vote."
He also warned that the uncertainty following a Yes vote could last a decade, adding: "Inevitably this uncertainty will lead to a slowdown in investment in the UK as a whole as well as Scotland."