Nigel Farage believes Ukip is on the verge of securing its first elected MP as the polls closed in a pair of by-elections. Douglas Carswell, who defected to Ukip from the Tories, is the overwhelming favourite to retain his seat of Clacton in Essex after triggering a by-election when he switched parties. Mr Farage, whose party organised a pub crawl in the constituency in an effort to secure last-minute votes, said Ukip was "on the brink of making history". Mr Carswell held the seat with a majority of more than 12,000 at the 2010 general election and is expected to benefit from a strong personal following.
The Tories go into the vote as underdogs but Prime Minister David Cameron insisted last week that his party could win in Clacton. Ukip has also been campaigning strongly in the Lancashire constituency of Heywood and Middleton, which also held a by-election today, in an effort to make inroads into Labour's northern heartland. The poll was triggered by the death of Labour MP Jim Dobbin, who had held the seat since 1997. While there was anticipation of a strong challenge from Ukip candidate John Bickley, opinion polls put Labour candidate Liz McInnes comfortably in the lead.
A Labour source said: "Obviously our vote will be squeezed by Ukip but we are confident of winning after a campaign which focused on the NHS." A defeat for Labour in Heywood and Middleton would be highly damaging with less than a year to go until the general election and would heap further pressure on Ed Miliband's leadership. Writing in the Independent, Mr Farage said voters in Clacton had been "fired up and excited about the prospect of playing a part in history". He said: "The electricity of being part of a schism in UK politics that could alter the narrative forever is palpable. The people lining up at polling stations, many of whom hope to touch the page that could turn over a new chapter for this generation of voters."
Mr Farage said the Clacton pub crawl was intended "to encourage the remaining men and women who are yet to engage with democracy to stake their claim in tomorrow's result". The Ukip leader, frequently pictured with a pint in his hand, added: "It's a bit of a burden for me and rather a break from the norm, of course, but I would do anything for the party."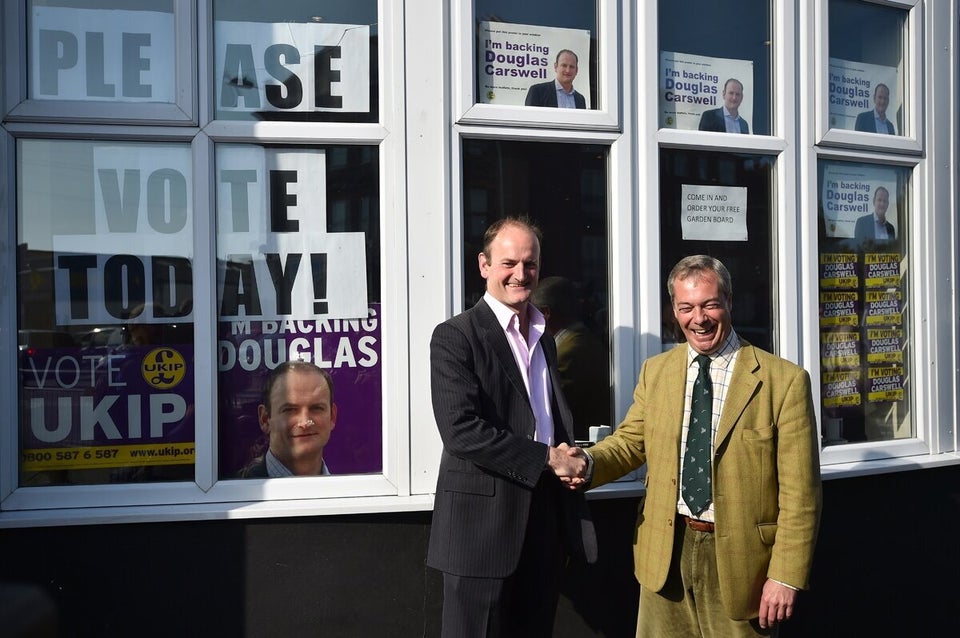 Farage Tours Clacton
Popular in the Community