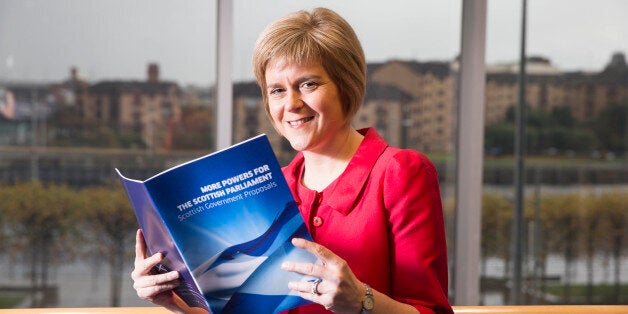 The Scottish Government has called for Holyrood to be given full control of all taxes and welfare in its submission to the commission tasked with reaching a consensus on further devolution. Scotland's five political parties were given until today to set out their views on how the Scottish Parliament should be strengthened following the No vote in the independence referendum last month.
Deputy First Minister Nicola Sturgeon has put forward the SNP administration's key proposals to Lord Smith's devolution commission. These call for full responsibility for all taxes to be transferred to Scotland, including powers over income tax, national insurance, corporation tax, capital gains tax, fuel duty, air passenger duty and inheritance tax.
The Scottish Government wants Holyrood to be given responsibility for all domestic spending, including welfare, with payments made to the UK Government for reserved services. The SNP is calling for an agreement with Westminster on an overall approach to public finances, including a commitment to continue the Barnett Formula - used by the Treasury to allocate public spending around the UK - during any transitional period.
It is also seeking control over employment policy, areas of transport policy not already devolved, competition, energy and broadcasting policy and the Crown Estate. Holyrood should also be responsible for Scottish elections and have its own human rights and equalities framework, and should be able to directly represent its interests on devolved matters in the EU, the SNP said.
Ms Sturgeon insisted the party would play "a full and constructive" part in the Smith Commission, set up by Prime Minister David Cameron to deliver on the pre-referendum vow by pro-union parties to guarantee more powers for Scotland. She said: "This will include working to ensure that the outcome meets the high expectations of the people of Scotland as expressed in the referendum, given the various promises of 'devo max', 'near federalism' and 'home rule' which were made.
"Our key focus will be on delivering 'powers for a purpose' - that means putting forward proposals that will deliver real change for the people of Scotland and better equip the Scottish Parliament to create jobs, protect public services and tackle inequality.
"Our proposals are aimed at boosting our economy and I firmly believe that these powers - including full fiscal responsibility and control of key economic levers - will achieve this. It is also vital that the Scottish Parliament has the powers it needs to tackle inequality and build a fairer society. That's why we propose control over welfare and employability policy, and the minimum wage, to ensure that we have the ability to protect our most vulnerable and help people out of poverty."
Speaking at a briefing following the publication of the proposals Ms Sturgeon said they amounted to "maximum devolution within the United Kingdom". She said: "The proposals we are publishing are not, cannot be, an attempt to win independence by the back door.
"If this process is to succeed there must be a willingness on all participants to compromise and that's the spirit that we enter these discussions in. We call on other parties to do likewise. For us, we need to acknowledge, as I have, that this process is not going to result in independence.
"Other parties need to acknowledge that the proposals they published back in the spring did not go far enough, do not amount to extensive additional powers for the Scottish Parliament and would not live up to the expectations that people in Scotland, I believe, have of this process. This is a process that must deliver something substantial. That is the expectation that people in Scotland have of it."
Ms Sturgeon said that any package of powers resulting from the Smith Commission had to "respect the sovereignty of people in Scotland and enhance the financial and democratic accountability of the Scottish Parliament to people in Scotland, transform our ability to meet the challenges we face as a country and be equitable, fair and transparent".
She added: "It's really important that we don't just have financial responsibility transferred to the Scottish Parliament but also the real power over economic levers that can determine how successful we are in growing the economy and creating jobs."
Each party has nominated two representatives to take part in the Smith Commission talks. The SNP will be represented by Finance Secretary John Swinney and MSP Linda Fabiani; Labour by finance spokesman Iain Gray MSP and MP Gregg McClymont; the Conservatives by Annabel Goldie MSP and academic Professor Adam Tomkins; the Liberal Democrats by former Scottish Secretary Michael Moore and ex-Scottish leader Tavish Scott MSP; and the Scottish Greens by co-leaders MSP Patrick Harvie and councillor Maggie Chapman.
The Greens have called for a "radical" settlement including the transfer of powers over borrowing and taxation, as well as the majority of the welfare system and electoral and franchise law. The party also wants Scotland to have greater control over energy, transport, employment law and rights, health and safety, human rights and equalities law.
Mr Harvie criticised the timescale for the devolution process as leaving "almost no scope for meaningful public engagement'' and said his party would work to address that. He said: ''The danger is that the infectious energy of the referendum debate is followed by the familiar sight of a stitch-up between political parties. The Scottish people were promised what some called devo max and others called home rule. Tightly limited tax powers designed to force Holyrood to follow Westminster's austerity agenda would be unacceptable."
Labour wants Holyrood to be given increased tax varying powers and responsibility for raising around 40% of its budget. It would give the Scottish Parliament the power to vary income tax by 15p in the pound, an extension on the 10p variation set out by the 2012 Scotland Act and due to come into force from 2016.
Labour also recommends that some elements of welfare policy be devolved, including housing benefit and attendance allowance. Leader Johann Lamont said: "On September 18, people voted for the best of both worlds - a strong Scottish Parliament backed by the United Kingdom - and we are determined that this is what they will get.
"We want to build a consensus for positive change and deliver on the promises made during the referendum campaign. So we will work together with the other parties involved in this commission to come to a conclusion that will provide the best future for the people of Scotland."
Liberal Democrat leader Willie Rennie called for a "bold and entrenched" package of new powers and said the party would work to find common ground. In a letter to Lord Smith, he said: "Now is not the time for a timid approach, but one that seizes the opportunity we have for a principled, democratic transfer of power to Scotland within a rebalanced United Kingdom.
"Scotland needs a settlement that commands wide support, which is truly cross-party, non-party and moves on from the Yes and No divide. We must establish a stable solution, which does not risk tipping Scotland into independence, given that was rejected by a majority in the referendum."
The party set out its vision for ''home rule'' for Scotland as part of a move to a federal system across the UK. A commission led by Sir Menzies Campbell recommended in 2012 that Holyrood should be able to raise most of its own spending. The party envisions this would include new borrowing powers as well as control over income tax, inheritance tax and capital gains tax, with the proceeds of corporation tax raised in Scotland assigned to the Scottish Parliament.
The party advocates one welfare system and a unified, single market for business across the United Kingdom and has committed to retain the Barnett Formula. The Conservative proposals include the full devolution of income tax to the Scottish Parliament and the assignation of a share of VAT to Edinburgh.
These are a "starting point" for further discussion and "a floor rather than a ceiling", according to Mr Tomkins and Ms Goldie. In a letter to the commission, they said: "Any plans for further devolution which undermined the Union would run counter to the clearly expressed, settled and sovereign will of the Scottish people.
"Further, a new constitutional settlement for the Union must accommodate not only the interests and aspirations of Scots, but also the legitimate interests and aspirations of our fellow citizens in England, Wales and Northern Ireland. It would be mistaken to imagine that further devolution for Scotland is of no consequence to the other nations of the United Kingdom."
In a letter to party representatives, Lord Smith said: "I will be quick to intervene if I feel that anyone is undermining the work of the Commission or the cross-party talks. We enter these talks with a weight of expectation upon us. The people of Scotland, whether they voted Yes or No, expect us to reach agreement.
"It will no doubt be a challenging process, with everyone having to give ground. Nobody in Scotland, me included, can compel the parties to reach agreement but it is my firm belief that if we can get this right we will have strengthened the public's confidence and engagement in the political process in Scotland."
He earlier told The Sun newspaper 'If I fail, they fail", adding: ''This won't be a lowest common denominator deal. It will be an agreement for substantial devolution of powers. It may be a poisoned chalice. It may be that I say, 'Here are 20 things that all five political parties will sign up to. But sadly, there are another four or five that they couldn't agree on'."
Cross-party talks were scheduled to start on October 14 but bi-lateral discussions will instead take place next week, with party representatives coming together for the first time on October 22. Members of the public and campaign groups have also been invited to contribute their views by October 31, with 700 emails already received via the email haveyoursay@smith-commission.scot.
Lord Smith said he has had contact with more than 50 organisations and has written to a further 80 to encourage them to take part. He is due to submit his report on November 30.