It took him five years and a lot of coalition compromise, but today David Cameron is finally a Prime Minister who can boast a majority in Parliament.
Cameron's Tories decapitated all major opposition in England after Ed Miliband and Nick Clegg quit as leaders of their parties, while Nigel Farage quit as Ukip leader.
It means the opposition parties of Labour and the Liberal Democrats are effectively rudderless until full leadership campaigns are complete.
But while it's good news for Cameron in England, there's a huge problem now lurking on the other side of the border as Nicola Sturgeon's SNP battered all on comers to claim a huge victory in Scotland.
In England heads started to roll early with a smiling, but fatally wounded, Ed Miliband arriving at Labour Party HQ with his wife Justine. Rumours had already been circulating around the press that it was all over.
Miliband confirmed his departure saying: 'Britain needs a strong Labour Party, Britain needs a Labour Party that can rebuild after this debate so we can have a government that stands up for working people again.
'And now it is time for someone else to take forward the leadership of this party. We have come back before and this party will come back again.'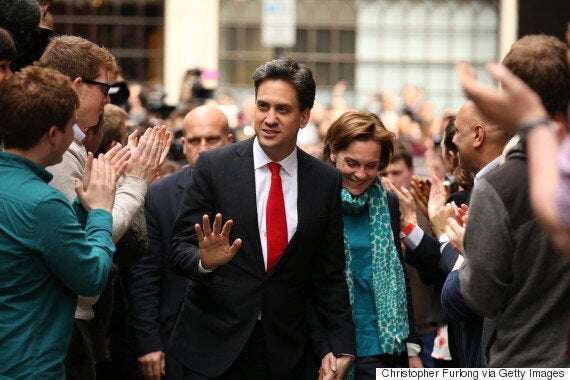 The Labour leader quit after dreadful election results
Miliband addressed an audience of noisy and passionate activists at a Westminster venue. He told them he was looking forward to spending more time with his family and he thanked the British people for their involvement in his campaign.
'Thank you for the selfies, thank you for the support. And thank you for the most unlikely cult of the 21st century - Milifandom.'
Then Clegg fell. His Liberal Democrats were all but wiped out after losing some of its biggest hitters including Vince Cable and Danny Alexander.
'I always expected this election to be exceptionally difficult for the Liberal Democrats given the heavy responsibilities we have had to bear in government in the most challenging of circumstances,' said Clegg
'But clearly the results have been immeasurably more crushing and unkind than I could ever have feared. For that, of course, I must take responsibility.'
'If our losses today are part-payment for every family that is more secure because of a job we helped create, every person with depression who is treated with the compassion they deserve, every child who does a little better in school, every apprentice with a long and rewarding career to look forward to, every gay couple who know their love is worth no less than everyone else's, and every pensioner with a little more freedom and dignity in retirement, then I hope our losses can be endured with a little selfless dignity,' he added.
Many are now questioning exactly who is left to lead the former coalition party. Lord Steele said Tim Farron was a likely leader. Farage looked gutted after the result he felt certain to win
Farage was initially more defiant, despite already saying he'd quit if was unable to win the South Thanet seat he'd been convinced he would.
Farage insisted he has 'never felt happier', with a 'weight lifted off his shoulders', after finishing as runner-up to Conservative Craig Mackinlay who won by almost 3,000 votes.
In his concession speech, the Ukip leader said: 'On a professional level, I express today a degree of disappointment. On a personal level, I feel an enormous weight has been lifted from my shoulders. I have never felt happier.'
Soon after he quit too, but in true Farage style he also claimed he'd stand as leader again.
What is all means is that David Cameron is now in a commanding position for the first time as Prime Minister.
Elsewhere, the 2015 election will go down as one of the biggest General Election shocks since the Second World War.
The Tories also claimed the biggest scalp as shadow chancellor Ed Balls was defeated by a margin of 422.
Returning to Conservative headquarters, Cameron told jubilant activists the election result was the 'sweetest victory of them all'.
In his acceptance speech following his re-election as MP for Witney, Cameron set out his intention to press ahead with an in/out referendum on Britain's membership of the European Union and to build on the economic foundations laid by the Coalition since 2010.
'My aim remains simple - to govern on the basis of governing for everyone in our United Kingdom,' he said.
He made clear that he was determined not to allow the rising tide of nationalism to lead to the break-up of the UK, saying: 'I want to bring our country together, our United Kingdom together, not least by implementing as fast as we can the devolution that we rightly promised and came together with other parties to agree both for Wales and for Scotland.
'In short, I want my party, and I hope a Government I would like to lead, to reclaim a mantle that we should never have lost - the mantle of One Nation, One United Kingdom. That is how I will govern if I am fortunate enough to form a Government in the coming days.'
The Prime Minister smiled and waved as he entered No 10 with his wife Samantha, but made no comment to waiting reporters.