The man accused of murdering Becky Watts in a sexually motivated kidnap plot with his girlfriend watched pornography almost daily, a court has heard.
Nathan Matthews, 28, and Shauna Hoare, 21, are accused of killing the 16-year-old on February 19.
Matthews was giving evidence for a second day at Bristol Crown Court, where prosecutors allege that he and Hoare targeted his stepsister due to their shared unnatural interest in petite teenage girls, the Press Association reports. Nathan Matthews, seen here in a court artist sketch by Elizabeth Cook at Bristol Magistrate's Court, denies murder and conspiracy to kidnap
They say they murdered Becky in her bedroom at her family home in Crown Hill, Bristol, before driving her body to their home in Cotton Mill Lane, Barton Hill.
They say the couple then dismembered Becky in the bath of the terraced property using a circular saw, before packing her body parts in bags, cling film and tape.
These were discovered in suitcases, bags and a blue box in a garden shed in Barton Court - 80 metres from their home - in the early hours of March 3.
Matthews was asked whether he had an interest in pornography and agreed that he did, saying it started when he was younger.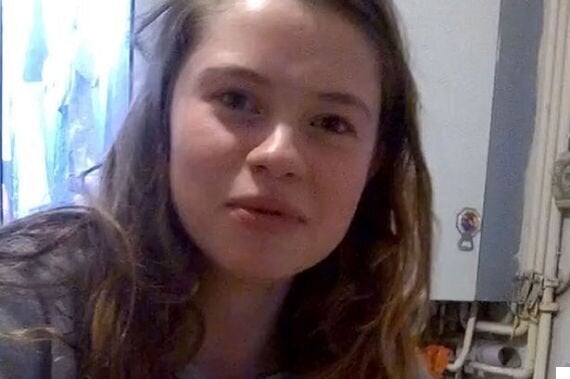 Becky Watts went missing in February. Her body parts were found in March
"It was magazines, then it was downloading it and then it was watching videos on the internet," he told the court.
"There are ridiculous amounts of it on there and there are thousands of new movies uploaded there every hour."
Adam Vaitilingam QC, defending, asked his client how often he looked at pornography and he replied: "Definitely every week but I would say it could be every day.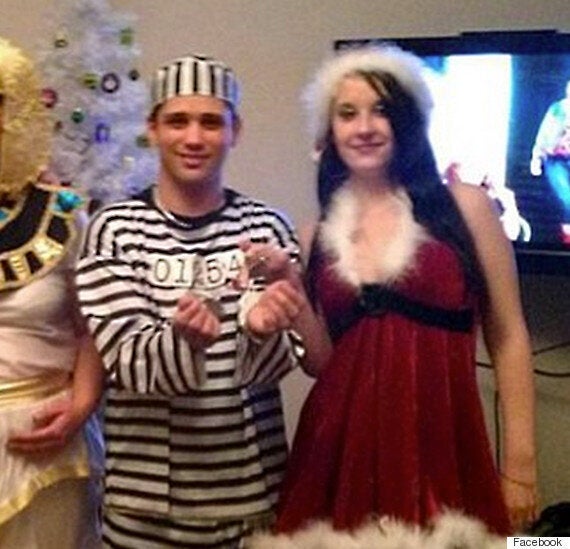 Nathan Matthews pictured with his girlfriend Shauna Hoare at a Christmas fancy dress party
"As an average I would say it would be just under every day - at least every two days."
Matthews insisted that girlfriend Hoare did not share his interest in pornography.
Matthews, of Hazelbury Drive, Warmley, South Gloucestershire, denies murder and conspiracy to kidnap.
He admits killing Becky, perverting the course of justice, preventing the burial of a corpse and possessing a prohibited weapon.
Hoare, of Cotton Mill Lane, Bristol, denies murder, conspiracy to kidnap, perverting the course of justice, preventing burial of a corpse and possessing a prohibited weapon.
The residents of the Barton Court property, Karl Demetrius, 30, and his partner Jaydene Parsons, 23, admit assisting an offender.
Donovan Demetrius - Karl's twin brother - of Marsh Lane, Bristol, and James Ireland, 23, of Richmond Villas, Avonmouth - a work colleague of Karl's - deny the charge.
Matthews again broke down in tears and sobbed as he continued to give his evidence from the witness box and the trial judge, Mr Justice Dingemans, asked whether he wanted to drink some water or use tissues.
He admitted he had interests in threesomes and often searched for "teen" photography but insisted that related to women aged 18.
Matthews denied watching a 17-minute clip found on his laptop, entitled 'virgin teen gets raped in her own house', in which the attacker places his hand over the victim's mouth.
"I wouldn't watch that," he told the jury. "I would have deleted it straight away."
Matthews said files he downloaded often contained images or video files not mentioned in the titles.
"I could have searched 'teen' on the website and downloaded the first 10 to 15 things," he said.
"Once, I know Shauna was there at the time, I was trying to download Puss in Boots. It's a Disney animated thing, like Up but about a cat.
"I downloaded that and obviously when I double checked it was illegal porn and obviously I said to Shauna 'this is not what we were expecting to watch' so we deleted it."
Mr Vaitilingam said 38 of the bookmarked pages related to pornography or escort websites, including 17 teenage sites.
Matthews replied: "Teen on these sites means 18 or fantasy dressing up as a schoolgirl but they have got to be aged 18 to be on the website."
Mr Vaitilingam took Matthews through a series of text and Facebook messages, which the prosecution say is evidence of an interest in kidnapping teenage girls.
Mr Vaitilingam asked him: "Is there any serious intent talking about bringing home pretty schoolgirls?"
Matthews replied: "No, Shauna just wanted to take the mick out of me. There is nothing there that could..."
Taking a long pause, he added: "A couple of time when we've been out somewhere checking out other girls, she would say they looked nice.
"The girl would turn around and Shauna would laugh because from behind I'd think a girl looked 17 or 18 but when she turned round it was obvious she was not.
"Shauna would take the mick because I struggle with people's ages. I once ID'ed a girl for alcohol and it turned out she was 32."