Britain First will reportedly hold its annual conference in Sheffield after being banned from holding it in Chesterfield.
The far-right group had booked a Chesterfield Borough Council venue for their seven-hour meeting next Saturday but that was later cancelled with the council chief executive Huw Bowen citing "the risk of public disorder".
Britain First members and their supporters will now meet the Days Inn Hotel at Woodall Services, according to the Derbyshire Times.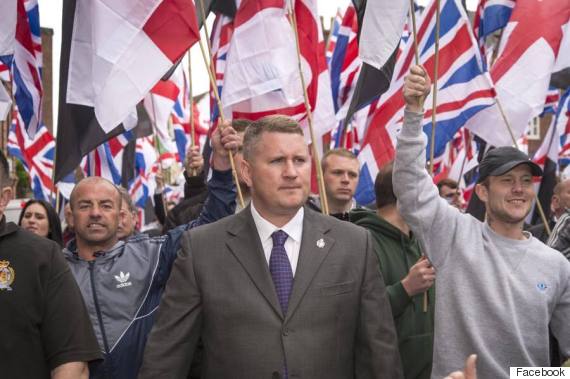 Britain First leader Paul Golding
In a Facebook post denouncing the Chesterfield ban, Britain First leader Paul Golding drew parallels between the minor bureaucratic tiff and soldiers fighting and dying for Britain in World War 1.
He wrote: "Just like our war heroes fought for freedom and justice against tyranny, we find ourselves in the same boat on Remembrance weekend of all weekends.
"Britain First is a fighting movement with bulldog spirit: our movement never surrenders, or backs down."
Golding, who called the ban a "ghastly attack on the foundations of democracy" threatened to take legal action over the cancellation and called on supporters to raise £5,000 so that "on Monday morning our legal representatives can pounce on the council".
In June, Britain First took Bedfordshire Police to court after the force applied for an injunction to ban the party from holding demonstrations in Luton for a year. The High Court dismissed the application.
The group are infamous for piggy-backing on the reputation of the UK's armed forces with frequent posts like the one below.
Unfortunately for Britain First the armed forces themselves take a dim view of it and have been asked in the past to remove such posts by army regiments themselves.
Even more distastefully, Britain First continue to exploit the image of murdered soldier, Lee Rigby, despite repeated claims from his family not to. The party re-used the image again Sunday.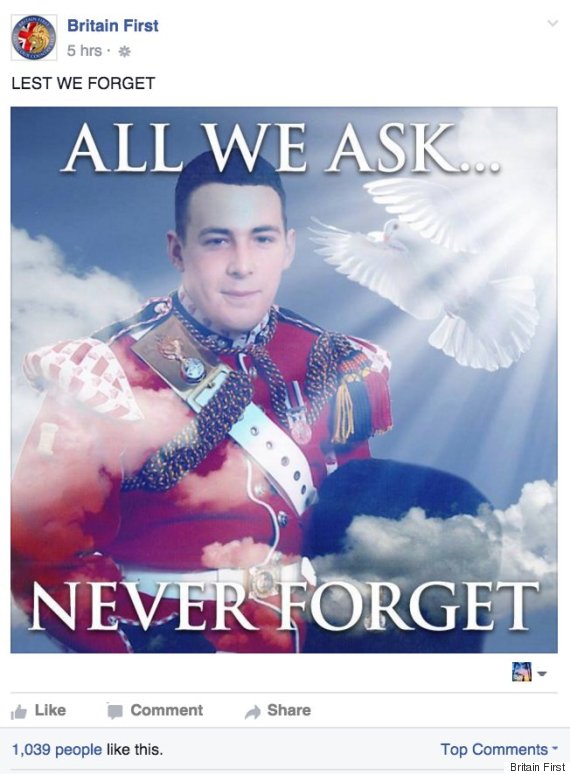 Britain First on Sunday published a picture of Lee Rigby despite repeated calls from the dead solider's family to stop doing so
Here are some other recent Britain First highlights...
In fact the 'Christian' group already have such a bad reputation that Church of England clergy recently wrote an open letter slamming their attitude to Muslims.