Caroline Nokes, who chairs the Commons women and equalities committee, called for "transparency" from Buckingham Palace following Meghan and Prince Harry's bombshell allegations.
The Tory MP also said she feared the UK could lose tourism income from Americans if this country was perceived to be racist in the wake of the couple's interview with Oprah Winfrey.
Suggested Tories rebelling over government plans to cut the aid budget were being threatened with the sack

Called on Boris Johnson to boost police numbers beyond his 20,000 extra officers pledge to help women feel safe following the suspected murder of Sarah Everard

Said she wore the term "woke" as a "badge of honour"
In response, Buckingham Palace said that "while some recollections may vary, they are taken very seriously and will be addressed by the family privately".
It has also launched an investigation into allegations of bullying made against Meghan by former royal staff.
Nokes told Commons People: "I think there's a way to go and I welcome the fact that the Queen is having her own internal investigations, I think that's important.
"But I think I would like some transparency at the end of that – what are the conclusions, what are the outputs, what are we going to see change?"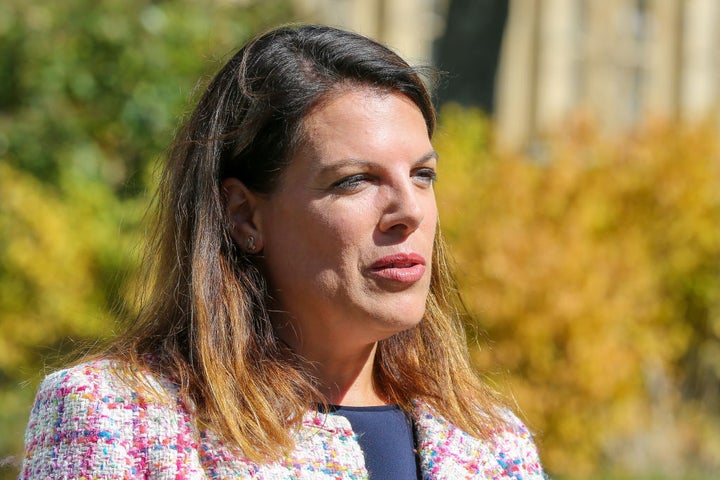 The former minister also had sympathy with the "very difficult position" the prime minister was in after the interview, which he refused to comment on.
But she urged him to deliver "a really firm message that we don't tolerate racism in this country in the same way we don't tolerate sexism, discrimination against disabled people, gay people, etcetera".
Asked if she was concerned about the perceptions of the UK abroad, Nokes said: "We've had a horrible year because of Covid, that's impacted us financially.
"To not have tourists coming to this country potentially – the American market is a massive one – I think we have to be concerned about that."
Turning to the suspected killing of Sarah Everard, Nokes urged Johnson to invest more in boosting police numbers to help women feel safe on the streets.
Everard's disappearance, and the later developments of the case including the arrest of a serving Metropolitan Police officer on suspicion of murder and the discovery of human remains, sparked an outpouring of stories from women who have experienced violence and harassment.
And Nokes urged the government to go beyond its pledge of replacing the 20,000 police officers lost from the streets over the past decade to boost numbers on the beat.
"We've seen more investment in police and more police on the beat, I think that that could go up again.
"One of the things that makes women in particular feel reassured is a visible police presence and I think that's important."
Asked if she would like to see more than the 20,000 extra police officers promised by Johnson, Nokes said: "Yeah I think I would, I really would."
"It's being used as an insult, actually I wear it as a badge of honour"
Meanwhile, Nokes, who is part of a sizeable Tory rebellion on plans to cut aid spending from the legally binding 0.7% of national income to 0.5%, rejected the idea the government could do it without a parliamentary vote.
She also suggested that rebel MPs had been threatened with the sack from the Tory Party if they rebel, dismissing "suggestions" that any vote on the cut would be a "confidence issue" for the government.
Raising concerns that cutting the aid budget would harm the UK's "brilliant work" in educating girls around the world, she said of the planned cut: "I have really grave concerns about it, there should be a Commons vote, it would be absolutely reprehensible to try and bulldoze this through without one, and they have got a duty to have a Commons vote.
"And I've heard all sorts of terms like this would be seen as a confidence issue, I've been there before and it's not a comfortable place to be.
"But it's not a confidence issue, this is a principled matter."
Nokes has become a vocal champion of women and minorities since losing her job as immigration minister in 2019 when Johnson took over from Theresa May as PM.
But she rejected accusations that she was "too woke", instead insisting she wears the label as a "badge of honour".
The Southampton Itchen MP said: "Suddenly by wanting to champion women or wanting to champion BAME people having a history curriculum that they recognise and relate to, I get accused of being 'too woke for my own good'.
"It's being used as an insult, actually I wear it as a badge of honour – I want us to stand up for people and do the right thing."