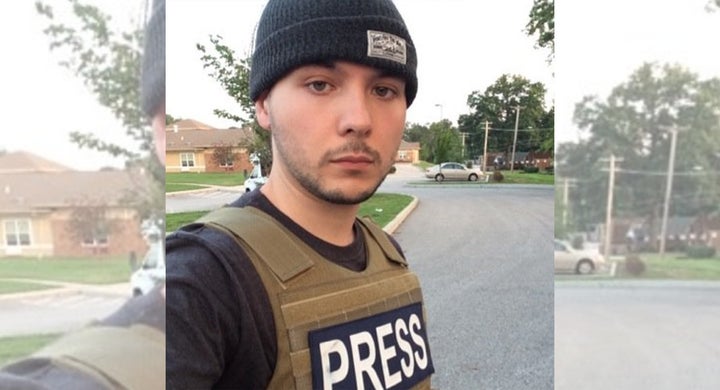 After watching President Donald Trump make flawed comments about a fictitious terrorist attack in the Nordic country over the weekend, Pool launched a fundraising effort to finance a full investigation into Sweden's supposed immigrant crime wave.
"I will pay for travel costs & accommodation for you to stay in crime ridden migrant suburbs of Malmo," Watson wrote.
Pool, a 30-year old videographer who has previously worked for VICE, jumped to accept, and was eventually chosen by Watson who pledged a not inconsiderable $2,000.
"After I sent the message to Paul, he messaged me to ask 'what do you think about Malmo', and I said that honestly, I was there a few months ago and found it quite boring," Pool told The Huffington Post UK on Tuesday.
"No offence to Malmo, I don't mean the city was bad. Just me and my friends walked around, ate ice cream and nothing happened."
Video, below, announcing Pool's fundraising efforts
While some have suggested Pool's fundraising effort seemed suspiciously well-timed with Watson's offer, he insists that he does not know the Infowars contributor.
"People are saying this is a conspiracy theory, like me and Paul planned this or something," Pool said. "I don't know Paul."
Since Watson made his donation public on Twitter, Pool, known as Timcast on YouTube, has been inundated with small donations of $5, $10, even $20 dollars a time.
By Tuesday morning those smaller donations were being made a rate of around one every five minutes. At the time of publication, Pool had raised around $9,000.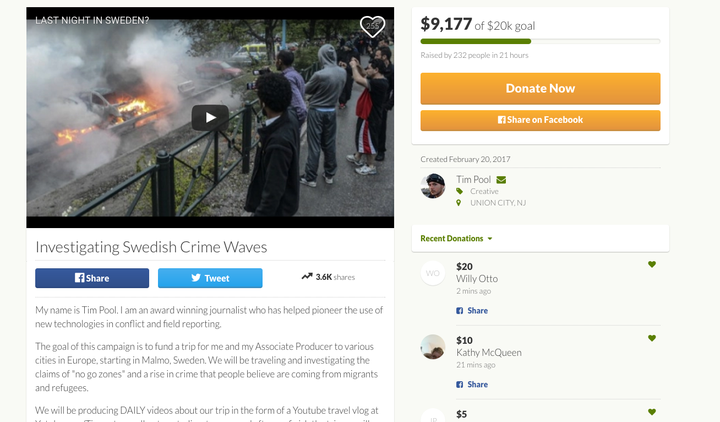 Explaining how he came up with the idea of an investigation into claims around Sweden, Pool said his inspiration was Trump's Saturday speech at a rally in Melbourne, Florida.
"My associate producer and I were sitting down at breakfast [on Monday] trying to figure out what's the big story to cover," Pool explained.
Watch, below, Trump appears to invent Sweden terror incident
"That's what I do, I do travel documentary and on-the-ground coverage and we said, why don't we do a story we can call 'Last Night In Sweden', and go to these places Trump has claimed are bad, and just meet people and experience, and see what's really going on."
"When we came back to my apartment my AP she noticed that Paul had issued this challenge. I thought 'I'll take some money if you want to fund me,' so I hit him up," he added.
A short film, below, made by Pool touring a town in Nevada
Pool's documentary plans won't focus solely on Malmo or Sweden, in fact. Tours of cities in France, Germany and Brussels are also planned.
"That's a bigger goal. I love travelling, I love the issue. I hope I don't lose a tonne of money trying to do this," Pool said.
That the issue of a supposed immigrant crime wave in those European countries which have welcomed vast numbers of asylum seekers has been politicised hasn't escaped him.
"I don't want to be in the middle of the politics, but here I am," he said. "I tend to find the truth keeps to the middle especially when something is as politicised as this. I don't like to judge before I go. But it seems like there is some crime. But where is it really?"
"If you think I'm going to go there and shill for your politics then you're going to be in for a re-awakening"
"I'm not the person who is going to go out there and side with Paul. I don't side with the Right on [Malmo] being a hellish war zone," Pool added.
"I tell the activists who say I'm feeding a fake news right-wing narrative, wouldn't it be funny if I came back and found it's not true. That said, I just don't know what I will find. Let me do journalism."
"If you think I'm going to go there and shill for your politics then you're going to be in for a re-awakening," he said.