Famously teetotal, the prime minister did once confess to being a "total Coke addict", although he meant the Mexican version of the carbonated drink rather than its Class A namesake.
Nevertheless, this week he bet the keys to No.10 on his belief that while the British public want the government to play its part in the global fight against climate change, they are less keen to pay for it out of their own pocket.
But with the Tories trailing Labour by 20 points in the opinion polls, it's probably worth a flutter - although history tells us that punters who chase their losses rarely prosper in the long run.
The ban on the sale of new petrol and diesel cars has been delayed from 2030 until 2035, while the phasing out of gas boilers has also been kicked into the long grass.
"It cannot be right for Westminster to impose such significant costs on working people," Sunak said.
"If we continue down this path we risk losing the consent of the British people and the resulting backlash would not just be against specific policies but against the wider mission itself."
That wider mission is the legal requirement of achieving net zero emissions by 2050, which the prime minister insisted remains in place.
Whether the public believes that will go a long way towards determining whether he is still PM after next year's general election.
New polling by the More in Common think tank shows that just 18% of voters - and only 26% of Tories - want the government to do less to achieve net zero.
Luke Tryl, the group's UK director, told HuffPost UK: "Rishi Sunak has taken a major gamble on his net zero policies and it's difficult to see how it pays off in a way that shifts the election to the Tories.
"While some of the individual decisions may poll as popular – particularly with some of the Conservative base - the danger is that voters across the political spectrum, and swing voters in particular, are more likely to say they want the government to do more rather than less to tackle climate change.
"He is at risk then of falling victim to the same problem as Jeremy Corbyn's 2019 manifesto where the overall package and tone is just too off putting to voters, and leaves a cynical public feeling that the government is kicking the net zero can down the road, putting their children and grandchildren's future's at risk."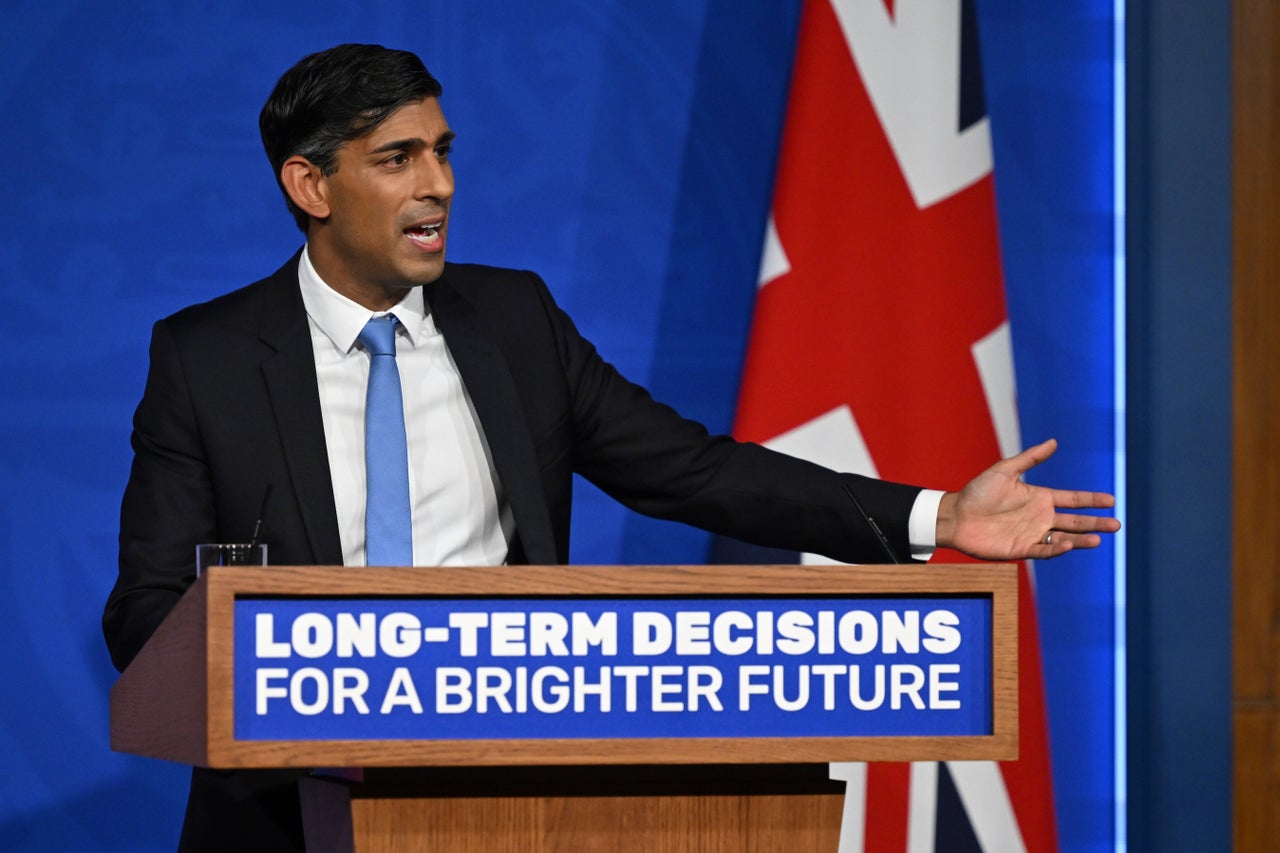 Keiran Pedley, director of politics at pollsters Ipsos, said voters are "more sceptical" about green policies when there is a personal cost attached.
"You might see polling that says people support the delay on the sale of new petrol cars, but we don't know if that's going to narrow the gap with Labour," he said.
"I'm not saying it won't, but it is a risk. But when you're 20 points behind it's probably a risk worth taking."
One of the major risks Sunak is taking is in the so-called "blue wall" of southern seats, where Conservative voters tend to be more liberal and supportive of climate change policies.
If the party starts bleeding support there, it could be the Liberal Democrats who make significant gains.
A Lib Dem source said Sunak's climbdown was already "proving toxic on the doorsteps".
"First it was watering down measures to protect rivers from sewage, now he's slashing targets for net zero," they said. "Former 'one nation' Conservatives are sickened by these acts of economic and environmental vandalism that will destroy jobs in the industries of the future.
"Boris Johnson trashed the Conservative Party's integrity, Liz Truss trashed their credibility on the economy and now Rishi Sunak is trashing it on the environment."
Labour, meanwhile, were quick to point out that Sunak's net zero climbdown came barely 48 hours after Truss had called for it.
A source said: "Sunak is prioritising shoring up his own position in the Tory Party over the long term economic health of the country and the cost to families.
"To stand behind a podium that had long-term decisions on it while gambling away our future to keep the Truss wing of his party happy sums up his weakness better than we ever could."
One senior Tory aide told HuffPost UK: "It's taken for us to be 20 points behind in the polls for the PM to make an actual policy decision.
"I'm not convinced it's enough to make a difference as he's U-turned on something he said was happening only a few months ago and by postponing the green changes by five years is just making this a different government's problem."
Sunak's speech effectively fired the starting gun on the campaign for the next general election, which increasing numbers of Westminster insiders now believe will be held next spring.
Whether it has triggered a Conservative fightback or simply sealed his fate remains to be seen.