President Vladimir Putin's claims that he wants a peaceful solution to the crisis in Ukraine are "not credible" while tanks roll across the border, David Cameron has said.
The Prime Minister said he was "extremely concerned" about reports of major troop movements from Russia into southeastern Ukraine and warned the activity must stop immediately.
Shots have been fired and around 1,000 Russian troops have crossed the border into Ukraine. Nato estimates another 20,000 are stationed on their side of the divide.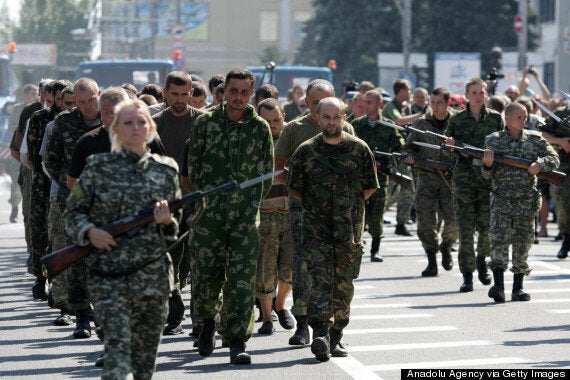 Pro-Russian separatists march Ukrainian prisoners through Donetsk
Two columns of tanks and military vehicles rolled into southeastern Ukraine from Russia on Thursday, after missiles were fired at a border post and Ukraine's border guards fled, the Associated Press reported.
Brigadier General Nico Tak, a Nato official, told the Associated Press there was no doubt that the Russian military had now invaded southeastern Ukraine.
The strategic town of Novoazovsk appears to be fully under the control of rebels, opening a new front in the war between pro-Russian separatists and the Ukrainian government in Kiev.
In a statement, Cameron said: "I'm extremely concerned by mounting evidence that Russian troops have made large-scale incursions into southeastern Ukraine, completely disregarding the sovereignty of a neighbour."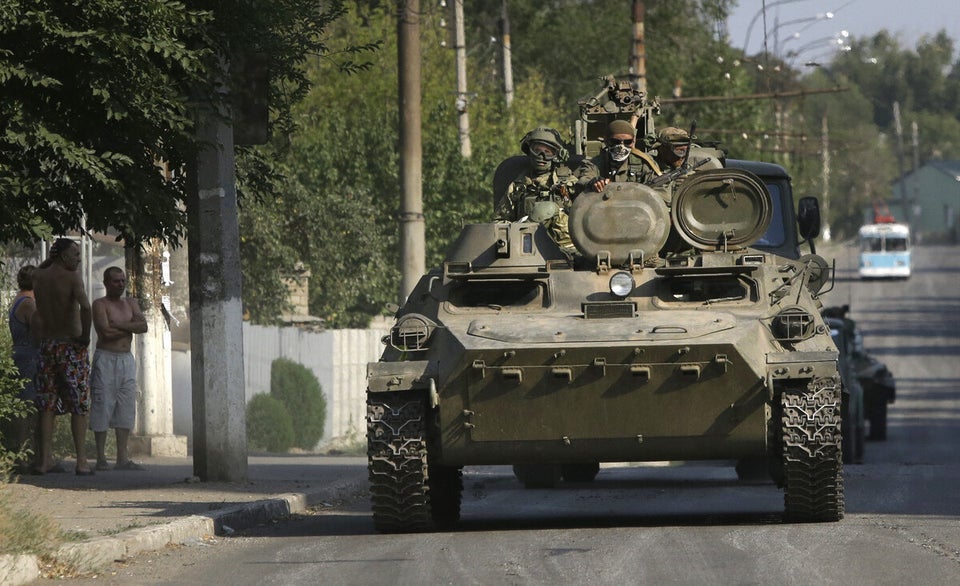 Pro-Russian rebels in Ukraine
Cameron continued: "The international community has already warned Russia that such provocative actions would be completely unacceptable and illegal.
"President Putin has said that Russia is willing to find a peaceful solution to the conflict but this is not credible when Russia is supporting pro-Russian separatists in Ukraine with arms and troops. It is simply not enough to engage in talks in Minsk, while Russian tanks continue to roll over the border into Ukraine.
"Such activity must cease immediately."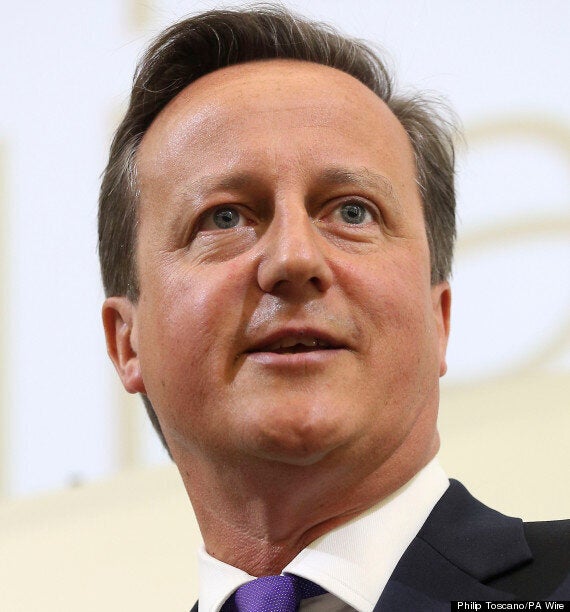 Cameron calls Putin's claims "not credible"
Ukraine's Colonel Andriy Lysenko said missiles from Russia were fired at Ukrainian positions in the southeast about 11am local time, and an hour and a half later two columns, including tanks and other fighting vehicles, began an attack.
They entered Ukraine from Veselo-Voznesenka and Maximovo in the Rostov region of Russia, Lysenko said.
Ukrainian President Petro Poroshenko has urged his citizens to remain calm, and has cancelled a foreign trip and calling an emergency meeting of his security council, saying: "Today the president's place is in Kiev."
Panic, Poroshenko said, could be "as much of a weapon of the enemy as tanks."
The Lithuanian ambassador to the UN, Raimonda Murmokaite, tweeted: "An invasion is an invasion is an invasion," and called a UN Security Council meeting to discuss the crisis on Thursday afternoon.
NATO claims to have satellite images showing the Russian soldiers are equipped with sophisticated, heavy weaponry.
U.S. State Department spokeswoman Jen Psaki said she was concerned about overnight Russian deliveries to southeast Ukraine, saying that Russia was being dishonest about its actions, even to its own people.
Associated Press journalists on the border have seen the rebels with a wide range of unmarked military equipment - including tanks, Buk missile launchers and armored personnel carriers - and have run into many Russians among the rebel fighters. Ukraine also captured 10 soldiers from a Russian paratrooper division Monday around Amvrosiivka, a town 20 kilometers (12 miles) from the Russian border.
Popular in the Community