David Cameron has condemned as "despicable and barbaric" the apparent slaughter of a second US journalist by Islamic State (IS) extremists - as it emerged that a British hostage is also under threat. The Prime Minister said he would be chairing a meeting of the Government's Cobra emergency committee tomorrow morning after footage said to show Steven Sotloff's beheading was released.
The masked killer is thought to be the same jihadist with a London accent who carried out the on-screen murder of US reporter James Foley a fortnight ago. In the chilling footage, Mr Sotloff - a freelancer for Time magazine among other publications - is pictured in a Guantanamo Bay-style orange jump suit against a desert backdrop.
SEE ALSO:
He reads out a purported "message to America" in which he tells US president Barack Obama: "I am paying the price of your interference with my life ... "You've spent billions of pounds US taxpayers' dollars and we have lost thousands of our troops in our previous fighting against the Islamic State, so where is the people's interest in reigniting this war?"
The jihadist, believed to be a Briton nicknamed "John" by captives, says: "I am back, Obama, and I am back because of your arrogant foreign policy towards the Islamic State, because of your insistence on continuing your bombings and ... on Mosul Dam, despite our serious warnings.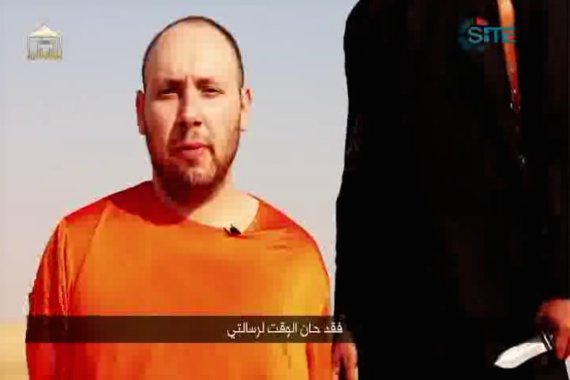 A still from the video in which Sotloff is named
"Just as your missiles continue to strike our people, our knife will continue to strike the necks of your people." Dressed in black and wielding a short knife, the extremist also warns other governments against entering "this evil alliance of America against the Islamic State". The video, which ends with a threat to another hostage who is said to be British, has surfaced in the week that world leaders are due to gather in Wales for a Nato summit.
Mr Cameron said in a statement: "If verified, this is a despicable and barbaric murder. My thoughts and prayers are with Mr Sotloff's family and friends tonight as they deal with this appalling and tragic situation. "As I have said consistently over the last few weeks, (IS) terrorists speak for no religion. They threaten Syrians, Iraqis, Americans and British people alike and make no distinction between Muslims, Christians or any other faith.
"We have already been working hard to keep British people safe and we will continue to do all we can to protect our country and our people from these barbaric terrorists. Tomorrow morning I will chair a Cobra meeting to review these latest developments."
If verified, this is a despicable and barbaric murder. My thoughts are with Steven Sotloff's family. Security officials are briefing me now.

— David Cameron (@David_Cameron) September 2, 2014
A Foreign Office spokesman said: "We are aware of a video which purports to be the murder of a US national and includes a threat to another hostage. We are urgently working to verify the authenticity of the video." Mr Cameron has warned that the West faces a "generational" struggle against the extremist ideology of IS, suggesting it is a more potent force than al Qaida.
Yesterday the premier announced a package of measures to combat the danger from British jihadists returning from fighting in Syria and Iraq to carry out attacks here. He said police would be given powers to confiscate passports at airports, and suggested that suspected extremists could be barred from re-entering the country even if they are UK nationals.
However, Labour accused the Government of being in "disarray" after senior figures including former Attorney General Dominic Grieve have raised doubts about whether the latter idea would be legally possible. The Liberal Democrats have also insisted they are not "definitively" signed up to proposals for beefing up terrorism prevention and investigation measures (Tpims) so suspects can be put into "internal exile".
SEE ALSO: