Former prime minister Gordon Brown has announced plans for a timetable to give the Scottish Parliament more powers if voters reject independence in next week's referendum. Mr Brown said a No vote would be the "starting gun" for further powers for Holyrood, with a new Scotland Act drawn up to give the country greater control over finance, welfare and taxation.
He was speaking after a shock YouGov poll put support for independence ahead for the first time, with 51% supporting Scotland leaving the UK, compared to 49% who want to remain in the union. The pro-union Better Together campaign has denied that it is being forced into panic measures to shore up support and has dismissed claims that a promise to outline the handover of more powers is little more than a "bribe" with just 10 days to go to the crucial vote.
Mr Brown, who will set out his plans in a speech at the Loanhead Miners Welfare and Social Club in Midlothian tonight, said work would begin on the new legislation on September 19, the day after the vote. He envisions a "command paper" to be published by the present UK Government setting out all the proposals for change no later than the end of October.
A white paper would be drawn up in November after a period of consultation, with draft clauses for legislation expected in January. Mr Brown said: "The alternative to an irreversible separation is a more powerful Scottish Parliament with a timetable for its delivery. "Quite simply, Scottish voters deserve to know to the fullest extent possible about how new powers as ambitious as possible will be delivered as soon as possible within the UK.
"So, we are demanding a tight timetable with tough deadlines and streamlined procedures. A No vote on September 18 will not be an end point but the starting gun for action on September 19, when straight away we will kick off a plan to deliver the enhanced devolution that we want.
"On September 19 we will start bringing into law the new, stronger Scottish Parliament, and to secure the change we want we will work with the other parties. The Scottish people will expect nothing less, not only because that is the right thing to do, but because we need an agreed timetable with deadlines for delivery and a roadmap to our goal."
Mr Brown said Labour was "taking the initiative" by putting forward the timetable. He added: "Labour since Keir Hardie has been the party of home rule for Scotland within the United Kingdom, so the plan for a stronger Scottish Parliament we seek agreement on is for nothing else than a modern form of Scottish home rule within the United Kingdom, published by St Andrew's Day on November 30, with the draft laws around January 25 - interestingly enough by Burns Night."
Scottish Labour leader Johann Lamont added: "The people of Scotland want certainty on September 18th and thanks to Gordon's plan we will be able to give them certainty that a new plan for devolution will start the day after a No vote in the referendum. While the nationalists ask us to take a leap of faith on currency, pensions and funding of our NHS, Scottish Labour will use the strength of the United Kingdom to make Scotland stronger."
David Cameron's official spokesman declined to say whether the Prime Minister was told in advance about Mr Brown's proposals, or whether he had spoken to the former PM in recent days. Asked repeatedly at a regular Westminster media briefing whether Mr Cameron had spoken to Mr Brown, the spokesman said only: "He speaks to a range of senior figures."
The PM's spokesman made clear this morning that any new proposals on further devolution would be put forward by the three main UK political parties, rather than by the Government. It is understood that the civil service has not been involved in drawing up the proposals expected to be released over the coming period.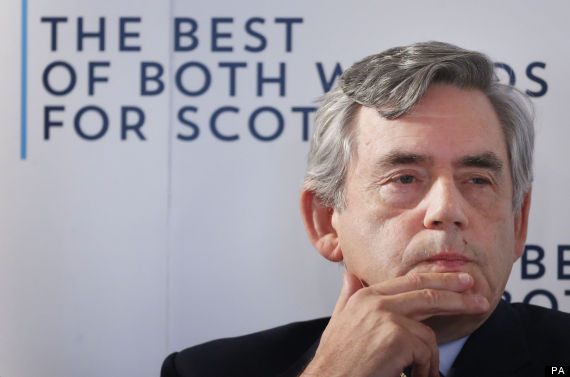 Brown: 'We will kick off a plan to deliver enhanced devolution'
Labour sources at Westminster confirmed that Mr Brown's comments represented the official party position. "Gordon Brown has set out our plan for moving forward," said a source. Mr Brown made the announcement because he has played a leading role in Labour's campaign. Leader Ed Miliband is expected to give his response at a dinner at the TUC congress in Liverpool this evening.
Speaking in Aberdeen, shadow chancellor Ed Balls said there would be no single cross-party manifesto on more powers for the Scottish Parliament. He confirmed there had been no discussions with his Conservative or Liberal Democrat counterparts on a common agreement on greater autonomy for Scotland.
Mr Balls said: "We've got three different political parties at Westminster, each with different proposals but with a common determination to say to the people of Scotland: if you vote No you will get the best of both worlds because there will be further devolution and we will keep the union.
"I don't think anybody is talking about, at the moment, there being one manifesto across all the three parties. The three parties have got different proposals but they are all similar and the advantage is in our proposals, I believe."
Asked if he had discussed a common platform with Mr Osborne or Lib Dem Treasury Secretary Danny Alexander, Mr Balls said: "No, and to be honest I think the discussions I have had have been with Margaret Curran and Ed Miliband about what will be in the Queen's Speech following proposals from Scottish Labour about what Scottish Labour want to see out of the devolution commission.
"More widely, we're not planning on negotiating the first Queen's Speech of the next Labour government with David Cameron and George Osborne."
Speaking on behalf of the Yes Scotland campaign, former Scottish Labour Party chairman and Labour for Independence campaigner Bob Thomson said: "This smacks of utter panic and desperation by the No campaign as they lose their lead in the polls. Gordon Brown is in no position to offer anything - he is a backbench MP, and the Tories are in power at Westminster.
"The choice is to vote Yes for all the powers we need to create jobs and protect Scotland's NHS - or No for a Tory-led talking shop. The people of Scotland will not trust the Tories to deliver powers that in any event fall far short of what we need. The sure fire way to achieve the full range of powers Scotland needs to build a fairer society and more prosperous economy is to vote Yes a week on Thursday."
A Downing Street source said: "We very much welcome this intervention by Gordon Brown. This is exactly the sort of thing which the Scottish parties have been discussing in recent weeks." The source said that each of the three main UK parties had been working on proposals for possible extensions to devolution over several months, and the fact that their plans overlap to a substantial degree was reflected in last month's joint declaration by David Cameron, Ed Miliband and Nick Clegg.
Mr Cameron is likely to make his response to Mr Brown's initiative later in the week.
SEE ALSO: