The stepbrother of Becky Watts closed his eyes when he dismembered her body with a circular saw before placing her body parts in a freezer, he told a jury.
Nathan Matthews, 28, is accused of murdering the 16-year-old at her home in Crown Hill, Bristol, on February 19 with his girlfriend Shauna Hoare, 21.
Bristol Crown Court previously heard the pair, who allegedly share an interest in petite teenage girls, targeted 5ft 1in Becky in a sexually motivated kidnap plot, the Press Association writes.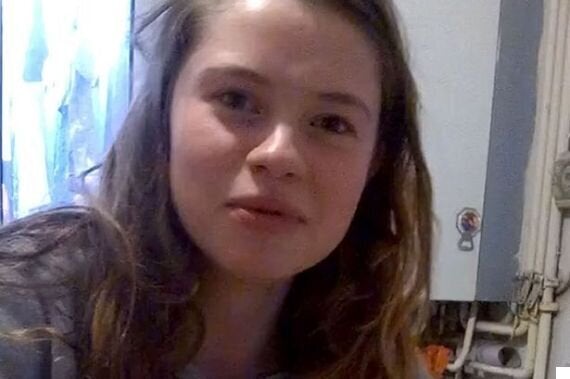 Becky Watts went missing in February. Her body parts were found in March
They allegedly suffocated Becky in a violent struggle in her bedroom, placed her body in the boot of their car and drove it to their home in Cotton Mill Lane, Bristol.
Becky's remains were discovered in a garden shed in Barton Court - 80 metres from their home - on March 3.
Matthews, along with Karl Demetrius, 30, and his work colleague James Ireland, 23, allegedly moved the body parts in the early hours of February 24.
Former TA soldier Matthews claims he killed and dismembered Becky without the knowledge or involvement of Hoare, his partner of six years.
He told the court that after killing Becky, he moved her body into a red suitcase, which he dragged down the stairs and into his car. Nathan Matthews, seen here in a court artist sketch by Elizabeth Cook at Bristol Magistrate's Court, denies murder and conspiracy to kidnap
The following day, he dropped Hoare at Becky's family home, then purchased a £80 Mac Allister circular saw, gloves, goggles and masks.
Matthews claimed he moved the body of Becky, who weighed nine stone, to his bath and dismembered it.
"I closed my eyes, had the saw in one hand," he told the court.
He denied that dismembering Becky had made a mess, or that he had taken care in the process.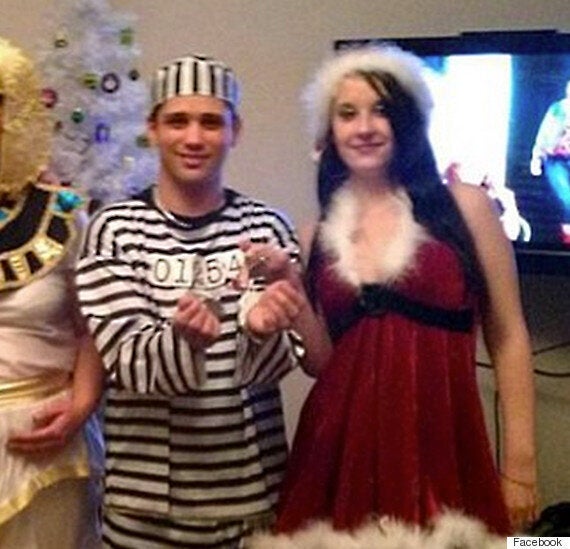 Nathan Matthews pictured with his girlfriend Shauna Hoare at a Christmas fancy dress party
No marks were found on the bath, which Matthews said was because he was holding the saw in one hand and Becky in the other.
"I wasn't slow, I was just rushing and doing what I had to do," he said.
Matthews said dismembering Becky and packaging the eight body parts in cling film, bags and tape was a lengthy process.
"I did take a while, yes," he told the court. "Not very lengthy... because that makes it sound like it was five or six hours or something stupid."
The court heard Matthews used cling film to wrap Becky's body parts so they did not smell, then moved the packages from the bathroom.
"I put some of it in the freezer and the other bit in the box," Matthews said.
Matthews said he promised Demetrius, who arranged for Ireland to bring a van on February 24, £10,000 to store items for him.
Both men arrived at Cotton Mill Lane and Demetrius put packages from Matthew's loft into a suitcase.
They drove the suitcase, along with other suitcases and a blue box, to Demetrius's home nearby and unloaded them into his shed.
Ireland allegedly told friends the length of the packages and said they felt soft, but Matthews said he could not have known.
"Unless Karl told him about it," he said. "Like I said, Karl explaining the length of the things coming out of the loft.
"I am pretty sure that's the only thing they saw and touched as in items inside the suitcases.
"Unless the front room door was open and they saw me getting items out of the freezer."
Earlier, Matthews told the court he came up with a plan to kidnap Becky to "shock and scare her" as she was rude to his mother, Anjie Galsworthy.
He claimed he placed a "kidnapping kit" of handcuffs, a stun gun, clear tape and a white mask into the boot of his Vauxhall Zafira before driving to her home with Hoare.
When they arrived, Hoare went to smoke a cigarette - which he claimed usually took her 15 to 25 minutes - and he fetched the kit before going to Becky's bedroom.
Matthews said it would have taken a "maximum of five minutes" to kidnap Becky due to the "fear and shock" it would cause her.
He claimed Becky would not have been able to recognise him as he was wearing a beanie hat, mask and used a deep voice.
Prosecuting, William Mousley QC asked: "Isn't it the truth that you are lying about the fact that you had a mask on? That's something you made up to try to help your suggestion that this was just a little prank that went wrong?"
Matthews said: "I definitely had a mask. Because then there would have been a massive struggle. The whole point was to shock and scare her, not to know it was me.
"I didn't want to kill her."
He told the jury he later threw the mask and his blood-stained beanie hat in a bin near a bus stop.
Jurors were shown the red suitcase Matthews claimed he used to put Becky's body into and later store in his front room.
When asked to look at it, Matthews replied: "I don't want to."
He refused the suggestion he had sexually touched Becky before or after killing her.
A post-mortem examination found Becky suffered multiple injuries before death, suggesting she fought violently for life.
Matthews said he accidentally killed Becky after using a trick he learned in school to make people pass out.
The court heard Matthews has made no attempt to contact Becky's family and express remorse for her death.
"I feel sorry for myself as well," he said. "But it was the impact on everybody else I couldn't deal with."
Matthews, of Hazelbury Drive, Warmley, South Gloucestershire, denies murder and conspiracy to kidnap.
He admits killing Becky, perverting the course of justice, preventing the burial of a corpse and possessing a prohibited weapon.
Hoare, of Cotton Mill Lane, Bristol, denies murder, conspiracy to kidnap, perverting the course of justice, preventing burial of a corpse and possessing a prohibited weapon.
The residents of the Barton Court property, Karl Demetrius, 30, and his partner Jaydene Parsons, 23, admit assisting an offender.
Donovan Demetrius - Karl's twin brother - of Marsh Lane, Bristol, and James Ireland, 23, of Richmond Villas, Avonmouth - a work colleague of Karl's - deny the charge.
Police attended Matthews and Hoare's home when Becky's body parts were stored in a chest freezer in the house, the court heard.
Officers asked to search the property on February 23 but were told the couple were out for the evening and it would have to be the following day.
Matthews told the court Hoare had no knowledge of what he had done or his plans to move the body parts that evening.
"She would have gone to the police," he said. "If she didn't do it there and then because of the shock of what had happened she would have done it later."
The pair were collected from Hoare's mother's home in Southmead, Bristol, on the evening of February 23 by Ireland and Demetrius.
Ireland and Demetrius, with Matthews in the car, drove to their work in Filton before picking up a van to move packages from Cotton Mill Lane.
Matthews said: "The box was already downstairs and suitcases with the rest of the bits out the freezer.
"The only thing I had to get from upstairs was the random bits of items used after - the saw that was used - but it was done quietly.
"I knew Shauna was asleep because I snuck up first of all."
He said the process of packing the van with the boxes and suitcases took between seven and 10 minutes.
The court heard retrieving the packages containing Becky's body parts took place without the lights on.
"I remember going round with a tiny little torch," Matthews added.
Mr Mousley suggested to Matthews that he had spent the 10 days between killing Becky and his arrest coming up with a plan with Hoare.
"You talked about what happened if you both got arrested for it and did you tell her out of your loyalty and love for her that if it came to it you would take it all on your shoulders?" he said.
Matthews replied: "No, I never said if we get arrested. I never said that, that would have been highly suspicious."
He said he "always had the worry" that he would be arrested following Becky's death but could not show it.
Mr Mousley asked: "That's why from then on since you tried to describe what happened upstairs in 18 Crown Hill on the 19 February as just a silly escapade that ended up as a dreadful accident?"
Matthews said: "I wouldn't have called it silly, I would have said drastic to shock and scare. It did go horribly wrong."
The prosecutor asked whether Matthews thought he was being clever and whether the problem was he just was not clever enough.
Matthews replied: "The truth is I didn't plan for this, for what happened.
"In my head the plan was meant to go how it was meant to go and that's how I thought it would have went.
"Obviously once it went bad I had no plan. That should be pretty bloody obvious."
The trial was adjourned until Friday.