The woman accused of murdering Becky Watts lied to police when they uncovered messages she sent about kidnapping teenage girls, a court has heard.
Shauna Hoare, 21, allegedly killed the 16-year-old in a sexually motivated kidnap plot with her boyfriend - Becky's stepbrother - Nathan Matthews, 28.
Bristol Crown Court heard that the pair, said to share an interest in petite teenagers, targeted 5ft 1in Becky in her bedroom at her home in Crown Hill, Bristol, on February 19. Becky Watts went missing in February. Her body parts were found in March
Becky's body was driven to the couple's home in Cotton Mill Lane, Bristol, and dismembered in their bath with a £80 Mac Allister circular saw, a jury heard.
Her remains were discovered in a garden shed in Barton Court - 80 metres from their terraced home - in the early hours of March 3.
Following their arrests, police found text and Facebook messages between Hoare and Matthews, who had been together for six years, about kidnap, the Press Association reports.
During police interview on May 7, Hoare insisted she had not sent the messages and claimed Matthews or another person could have used her phone to do so.
On her first day of giving evidence, Hoare, dressed in a black jacket, black trousers and a peach blouse, admitted she had lied in that interview. Nathan Matthews, seen here in a court artist sketch by Elizabeth Cook at Bristol Magistrate's Court, denies murder and conspiracy to kidnap
"I knew what Nathan had been charged with," Hoare told the jury. "I knew what had actually happened and I knew how bad it looked."
In one of the messages, sent between November and December last year, Hoare wrote: "Just went into Costcutter and saw a pretty petite girl. Almost knocked her out to bring home lol xoxo"
A reply 20 seconds later from Matthews read: "Don't you 'almost' me ... Now DO IT bitch!! xxxxx"
Hoare then said: "lmfao yeah I'll just go back in time to when I saw her then time travel her to our attic lol xoxo"
Hoare told the court she had felt "panic" when confronted with the messages by police and so lied.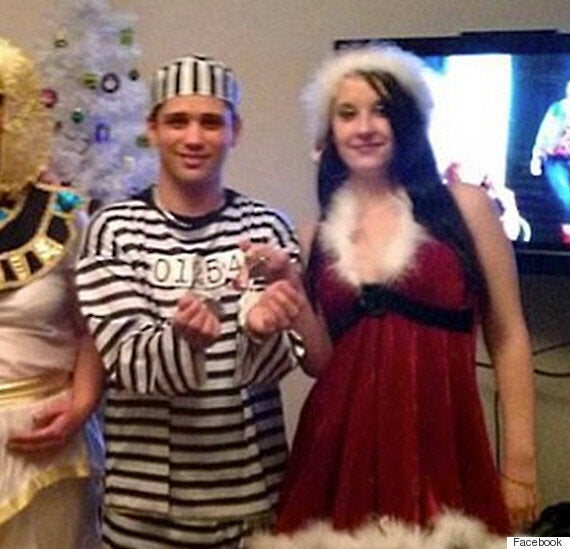 Nathan Matthews pictured with his girlfriend Shauna Hoare at a Christmas fancy dress party
"I regret it massively because, one, I should not have lied and, second, because of the way it looks and I should have told the truth in the first place," she added.
The court heard that Matthews experienced mood swings and Hoare would send him messages when she was out.
"Sometimes I would make things up to get him in a good mood," she said.
Andrew Langdon QC, defending Hoare, asked her why she did not rebuke Matthews for writing inappropriate texts about teenage girls.
"If I had said something like that he would have got angry," she said. "A lot of the time I accepted the inappropriate things he said.
"One, because I thought they were completely harmless inappropriate comments, and two, because I liked him when he was in a good mood."
Mr Langdon asked: "Did you think Nathan was going to kidnap a girl?"
The jury heard that two stun guns were purchased in the name Shauna Phillips - the name Hoare used unofficially as she did not like her surname.
These were posted to Becky's family home, where Hoare was a carer for Matthews's mother, Anjie Galsworthy - Becky's stepmother.
Hoare told the court she had seen one of the weapons, with POLICE written on the side, in her bedroom.
"I thought it was a torch," she said. "He used it as a torch in the bedroom. He had many torches."
Hoare said she was aware her boyfriend was attracted to teenage girls and watched pornography.
But she insisted she was not aware of a video found on his laptop entitled: "Virgin teen gets raped in her own house".
"Occasionally he would make inappropriate comments about women, it wasn't necessarily specific to an age," she added.
"He would make out that he would like to have sex with them. He would generally say 'I would give them a go'."
Earlier, she told the court that Matthews controlled her food and money, and was physically violent towards her.
"Sometimes life was OK and quite normal and sometimes it was quite stressful," she added.
Matthews, of Hazelbury Drive, Warmley, South Gloucestershire, denies murder and conspiracy to kidnap.
He admits killing Becky, perverting the course of justice, preventing the burial of a corpse and possessing a prohibited weapon.
Hoare, of Cotton Mill Lane, Bristol, denies murder, conspiracy to kidnap, perverting the course of justice, preventing burial of a corpse and possessing a prohibited weapon.
The residents of the Barton Court property, Karl Demetrius, 30, and his partner Jaydene Parsons, 23, admit assisting an offender.
Donovan Demetrius - Karl's twin brother - of Marsh Lane, Bristol, and James Ireland, 23, of Richmond Villas, Avonmouth - a work colleague of Karl's - deny the charge.
Popular in the Community