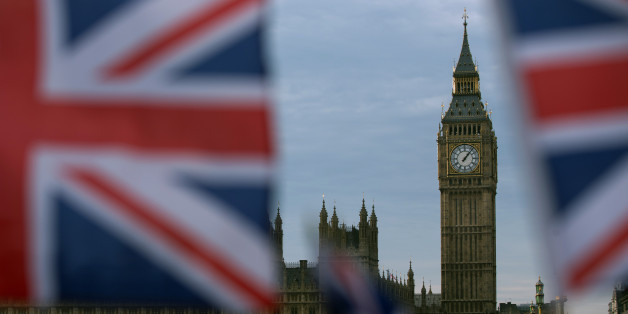 Like many brands, most successful political narratives are the ones that are memorable - distinctive, tangible and succinct. Positivity is an optional extra. So is truth as of late. Here we look at the top 10 attempts to establish political brands in Britain in the 21st century. Share your own favourite with a quick poll at the end.
10. One Nation Labour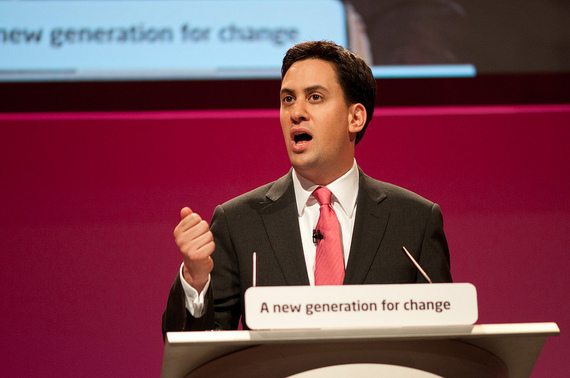 Photo: Aidan Harris / Ed Miliband, CC Attribution 2.0 Generic
To move beyond the shadow of New Labour, Ed Miliband needed an alternative narrative to rejuvenate a tired and divided Labour party. In 2012 he unveiled One Nation Labour. Unfortunately, the party forgot to flesh out the narrative, resulting in a concept that much like Ed Miliband was an uncomfortable attempt to marry an uninspiring political philosophy with a disjoint array of technobabble and dry policies. The narrative was quietly dropped and people today are still scratching their heads today wondering what One Nation Labour was about.
Verdict: Substance was an afterthought.
9. Blue Labour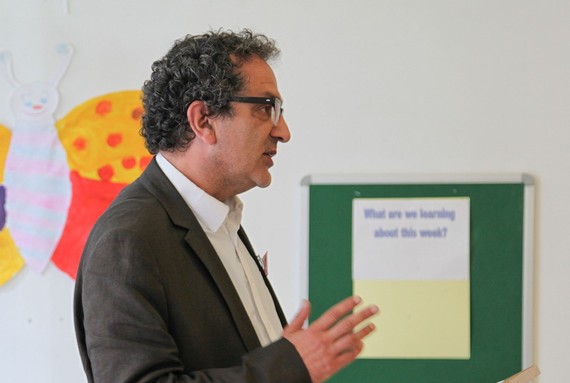 Photo: CTBI (Cropped), CC Attribution 2.0 Generic
Maurice Glasman's Blue Labour knows what it's like to be the last one picked for the football team. It tried to analyse the direction the country has been going and offer an alternative strategy. No one really listened. As an attempt to resurrect social conservatism on the left, it was never seen as anything more than a curiosity by the liberal elite that dominates the party narrative. While discussions continue sporadically across local Labour groups, it is increasingly unlikely that Blue Labour will survive. Perhaps ahead of its time or lacking the right champions, it is likely that its ideas will permeate into future political narratives.
Verdict: Ignored, unloved, and on life support.
8. Kinder, gentler politics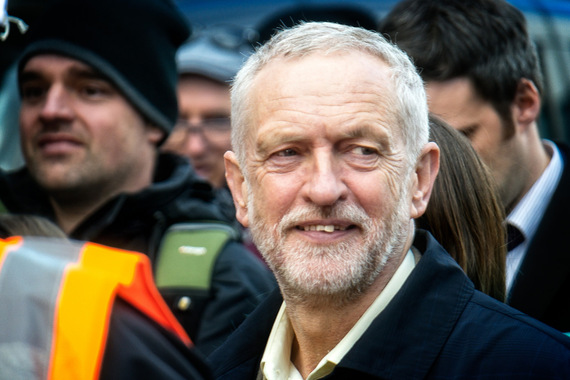 Photo: Garry Knight, Public Domain
The tsunami that came with the arrival of Jeremy Corbyn and Momentum marked a huge shift in the direction and make-up of the Labour Party. Buoyed by the unleased anti-establishment sentiment Corbyn announced the arrival of a Kinder, gentler politics. Despite developing an impressive dominance of the Labour party itself, it has so far failed to connect with the wider nation. A kinder, gentler politics has arrived with an absence of conviction on subjects the public talk about, conviction where the public are silent, and a crippling bloody mess of a Labour civil war.
Verdict: Rated 18 for graphical violence and bad language.
7. Big Society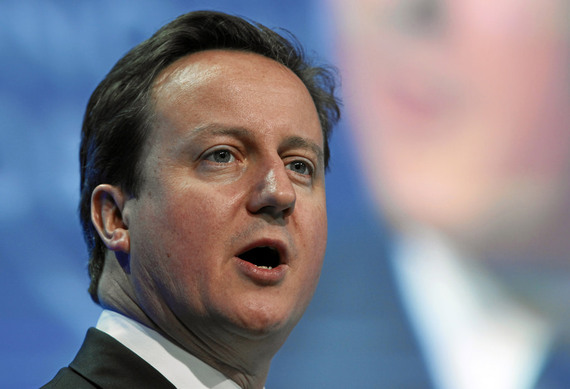 Photo: Moritz Hager / WEF, CC Attribution-Share Alike 2.0 Generic
David Cameron's election in 2010 was arguably more about the vacuum of credibility around Labour than a vote of confidence for the Conservative Party. Cameron needed a plan, his own New Labour to define his premiership. The Big Society was born - a concept rooted in earlier attempts for a post-Thatcher narrative in the 1990s, using communalism and volunteerism as an antithesis of the state. In an era of degrading public confidence and cuts with public expenditure, the Big Society became a vacuous attempt to build a positive brand for the Conservatives. The pubic never believed David that "we're all in it together", and subsequently Big Society was forgotten.
Verdict: It brought us together briefly in laughter.
6. Northern Powerhouse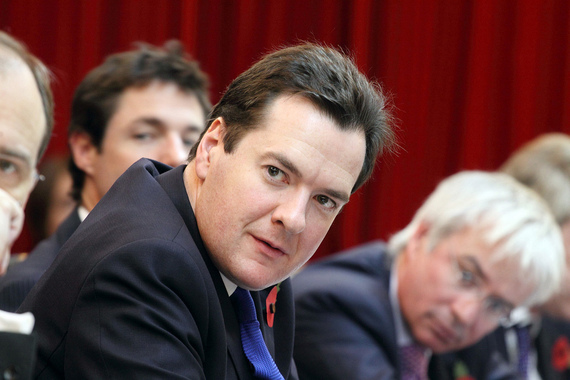 Photo: Sean Gallagher / HM Treasury, CC Attribution 2.0 Generic
George Osborne never had the chance to deliver anything of substance on the Northern Powerhouse. A concept rooted in jobs, infrastructure and a stronger economy for a North left behind. Cynics would say this was nothing more than a meaningless brand. Without the confidence of the current Conservative leadership, can it stand a chance? What we do know is that the North of England will be the most important political battleground, with an insurgent UKIP shaking off its Brexit wings and a Labour party in disarray. With directly elected metro-mayors across the North, perhaps there is still potential for a tangible plan to make the North great again.
Verdict: Not off the starting line, but still has potential.
5. Cleggmania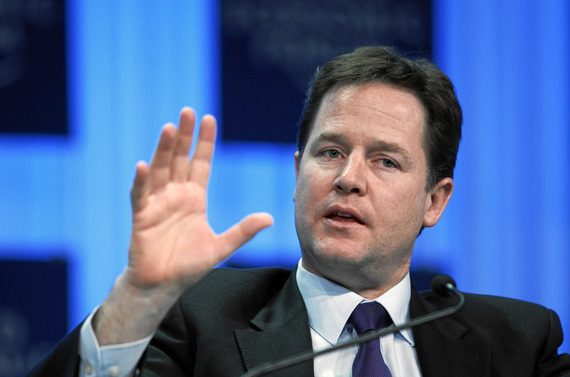 Photo: Moritz Hager / WEF, CC Attribution-Share Alike 2.0 Generic
It might be hard to believe that back in early 2010, stocks in Liberal Democrat leader Nick Clegg could not be higher. Leading the third party into a General Election his television appearances in the live leaders debates won him praise across the media. Pitted alongside a wooden and worn Gordon Brown and an oh-so-shiny David Cameron, Cleg brought a mix of positivity, normality and integrity that was vacant elsewhere. Unfortunately for him, this hype was short-lived and did not translate at the polls. Through circumstance of the performance of the other parties, Clegg did take the Liberal Democrats into government as a junior partner of the Conservatives. Despite the contrast with successive Conservative ministries illustrating his invisible moderating hand on the coalition, public ridicule dominated his time in office, that in turn all but wiped out the Liberal Democrats in the 2015 General Election.
Verdict: Clegg had us going for a while.
4. Austerity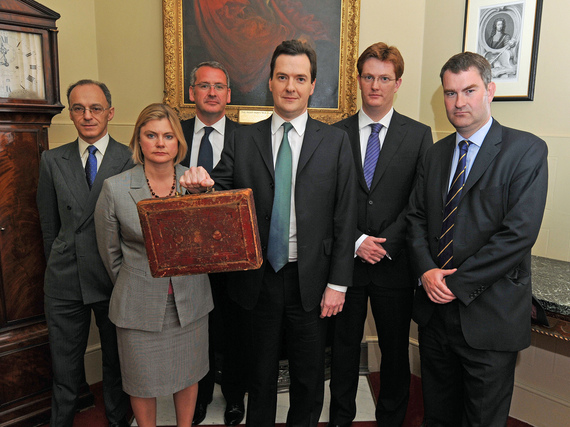 Photo: The Prime Minster's Office, CC Attribution-NonCommercial-NoDerivs 2.0 Generic
Unique to this list, austerity is inherently negative to both supporters and opponents alike. A necessity rather than desirability; a responsibility as opposed to a vision. Its simple branding and inherent substance allowed it to achieve tangible results - despite missing its own targets, and arguments over the opportunity cost of the approach. Austerity became the accepted course Britain was taking; a political narrative delivered by fait accompli.
Verdict: Quietly got on with it.
3. Scottish Nationalism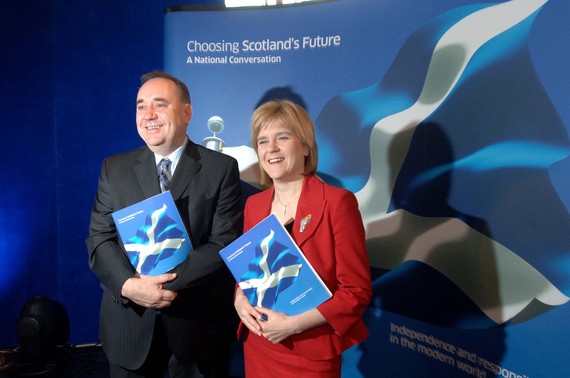 Photo: Scottish Government, CC Attribution 2.0 Generic
Scottish Nationalism has reached a new level under the guidance of the SNP. A majority in Holyrood since 2011, a very closely contested independence referendum in 2014 and the rout in Westminster in 2015 has helped turn Scotland into a one-party nation. The Scots support of remaining in Europe further adds narrative that Scotland must be treated in accordance of its own diverging interests. Scotland is a very different place politically than twenty years ago, and it looks like this will continue for decades to come.
Verdict: A dominating fixture.
2. New Labour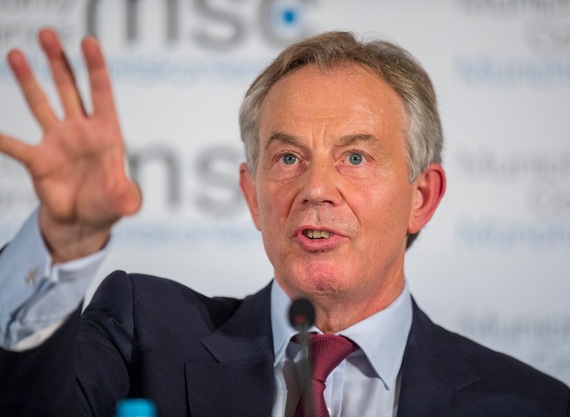 Photo: Müller / MSC, CC Attribution 2.0 Generic
While a product designed, and introduced in the last century, New Labour has been the dominating narrative owned by any government in the 21st century. Despite the taints with the war in Iraq, it endured electorally with a plethora of talented and bright communicators. While not without critics - especially in the current Labour Party, its successes cannot be denied. As will all brands, despite a good run it lost its magic over time, but not before three successive general election victories.
Verdict: Triple platinum, but maybe no more cover bands?
1. Brexit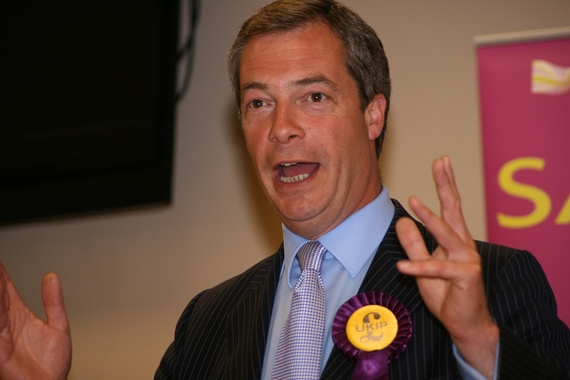 Photo: Euro Realist Newsletter, CC Attribution 2.0 Generic
The referendum result of 2016 sent shockwaves throughout the political establishment - Nigel Farage had won. The UK's impending exit of the European Union has been a slow-moving storm on the horizon neglected for too long to mount a successful challenge in an area of post-truth. UKIP's success cannot be understated - a threat from beyond the political establishment that facilitated the hardening of views of many on the right of the Conservative party that made the referendum possible. The impact of Brexit will have a lasting effect on the economic and social fabric of the country.
Verdict: A post-truth victory.