Two months after Brexit, the daily life of Britons living abroad has already been shaken by the plunge of the pound and many are taking measures to prepare for further consequences that the "leave" vote could have on them.
Whether they're a family with children who speak more French than English or pensioners who have decided to settle in the French countryside, the idea of a referendum was unthinkable when they moved away from the UK many years ago.
The confidence that they could still hop onto a ferry to visit their old friends has become more costly, and the plans for others to follow in their footsteps have almost disappeared. Suddenly, the UK feels much further away from their new home.
"I'm in the process of applying for Italian citizenship and passport," said Irene Ermelli, who will be able to count on her family's background. A retired drama teacher living in southern Touraine, the value of her pension dropped significantly after the results of the referendum and she and her husband are finding it more difficult to sell their house.
"Since we have put our property on the market, we can no longer rely on the Brits to buy in France, as they won't be as keen to buy in Europe as they once were. It limits our property's appeal and reduces the price we were hoping for."
No visas, access to top-notch healthcare and the possibility of claiming a UK state pension make moving to France a relatively easy process. Thousands have been making the step each year and estimates in 2012 suggested that 400 000 Brits resided in France.
However, many of them couldn't participate in the referendum as they automatically lost their voting right after living 15 years away from the UK. Who knows what would have happened if these Brits, who were seeing Brexit from a different perspective, were given a vote. Whilst it may not have swayed the outcome, those who are benefiting from the advantages of the EU would have been able to speak out.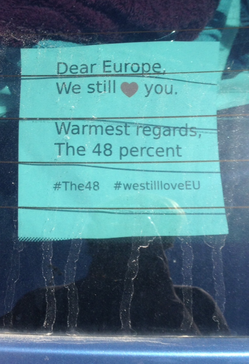 A message of sympathy on a British car in France - James Vasina
Tinny Whitaker, who set up her English teaching company for businesses, has been wondering for a while whether or not to become a French national but feels as though she doesn't have the choice anymore.
"Having lived in France for such a long time and living with a French partner, I feel more European than British and it's frustrating not being able to vote, " she said.
Whilst uncertainties remain about the way travel will be affected for all Britons, she may have to request a visa or a new a form of travel authorisation each time she leaves France.
"I can't imagine applying for a visa if I just want to get in our camper van and go to Holland for the weekend! For my retired friends here, the value of their pensions has dropped and I know some people will have to return to the UK as they will not have the financial means to stay in France."
Applications for dual-citizenship have soared all over Europe, but not only from expats. The requests for Irish citizenship from UK residents were so high after the results that the Foreign Affairs Minister Charlie Flanagan called for calm, as Brits' EU-rights remain as long as article 50 is pushed back.