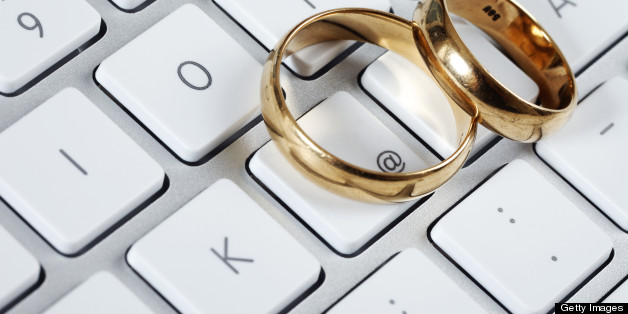 Getty Images
Technology has flipped pretty much every industry on its head in the space of a decade and has transformed the way we live our everyday lives. Today, you can carry a limitless library of music in your pocket, order your weekly grocery shop at the click of a button and turn your work commute into a mobile cinema - right from the palm of your hands. As we continue to immerse ourselves within the ever-evolving digital sphere, there aren't many aspects of our lives that have been left untouched by technological innovation, one way or another.
Take dating for example. Since online dating made its way onto our computer screens in the early 90's, it's evolved from a stigmatised and sparkless process of dating deluded weirdos into a normalised and adventurous way to meet the love of your life. From its primitive beginnings, online dating has fallen into the whirlwind of emerging technologies - not limiting itself to the many stale services that exist, rather, it's now seeing a wave of innovation from new services that combine social media and tech savvy features to create a stress-free dating experience that aims to clean up the dating industry.
Online dating is like a shopping list. We're often faced with an overwhelming plethora of choices about what to do, where to go, and what to wear - let alone finding the right person to date! At TrueView, we're here to make online dating that little bit less stressful by making it easy to discover people with common interests. Log the things you like and those you don't. TrueView enables you to meet like-minded people, see their true personality and make true connections through real conversations. In light of the recent negative press that online dating services have been subjected to because of fake profiles, we wanted to put a guide together for our tech savvy daters as a sure way to meet REAL people and make other date-related decisions that little bit easier.
TrueView - Find a date
No more rolling subscriptions, no more endless form filling and no more bullish*t! TrueView is a social network for dating that helps users discover real people and make real connections through the things they love doing - not on how they sell themselves. It's the perfect answer to meeting new people, which doesn't cost the earth and isn't full of fake profiles and idiots. Boasting an array of features from live discovery and slick interest filters; the TrueView revolution has arrived.
Y-plan - Find what to do with that date
Choosing what to do on a date can be just as stressful as the date itself, so If you don't feel like awkwardly sitting across from your new acquaintance for the next couple of hours and need something more inspiring to do, you need YPlan. You could be one click away from securing a pair of tickets to that sold-out Alt-J gig or find yourself dining on a rooftop, admiring the evening skyline.
ASOS - Make sure you have the right get up for the date
We've all been there, frantically rummaging through our wardrobes amongst the endless rails of clothes and realising that there's not ONE suitable outfit to wear. Gone are the days of squeezing into your sibling's mini-skirts and donning toe-crushing heels that are two-sizes too small. Find fashion tips in the palm of your hand with ASOS and order that emergency party dress for next-day-delivery. Phew!
City mapper - Get to your date on time
Long gone are the days of rushing from the office to an evening date and realising that you've hopped the wrong way down the street whilst trying to change into those feet-crushing heels. With City Mapper, you can generate an abundance of journeys and also receive alerts for when your bus is about to arrive - perfect for when you need to spend a couple more minutes in the office toilet perfecting your makeup and showering yourself in perfume. It even provides a weather forecast and informs you of how many calories your journey will burn off! Brilliant.
Hailo - Get home safe or back to theirs for a night cap
If it's one of those dates where the conversation was so dull that you've been left with partial brain-damage, you're gonna be running faster than you can down that last glass of red wine. Rather than sniffling on a street corner and erratically waving your hands in the air hoping that you'll be saved by the distant glowing light of a black cab, you need Hailo. With Hailo, you're just two taps away from being able to gracefully exit straight into the back of an awaiting taxi - head held high.
Stay Safe - When they're just not getting the message
When you plan a date, it's inevitable that you're going to swap numbers - whether it's before or after the madness. If the date didn't go so well and the conversation was stiffer than steel, the last thing you want is for them to keep calling you and pestering for another date. If they're not getting the message that no means no, you need Google Voice. With Google Voice, you can generate a phone number that directs calls to your mobile without you having to give out your actual number. It even allows you to block callers, ensuring that you can safely wave bye bye to those crazies!
Now go forth, join the dating revolution and enjoy meeting the real digital-dating generation. Good luck!